Is it the end of Big Data? Quarta Horribilis for high-end storage
People will be talking about the terrible 2014 Q1 for years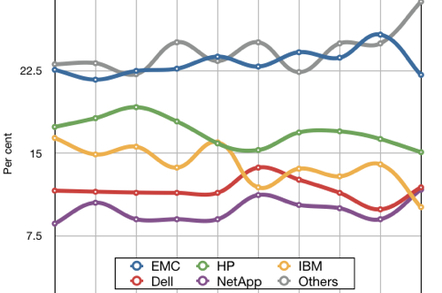 IDC has just revealed one of the worst storage quarters for a couple of years as buyers went on a high-end storage strike.
There's been a quite spectacular slump in the storage business in the first 2014 quarter, according to the beancounters' Storage Tracker. Notwithstanding the digital-universe-drowning-us-in-Big-Data narrative, the actual storage market shrank this quarter.
Here's the bare bones IDC statement:
"The total (internal plus external) disk storage systems market generated $7.3 billion in revenue, representing a decrease of -6.9 per cent from the prior year's first quarter and a sequential decline of -17 per cent compared to the seasonally stronger 4Q13."
IDC Storage Research Director Eric Sheppard said:
"The poor results of the first quarter were driven by several factors, the most important of which was a -25 per cent decline in high-end storage spending."
Ouch, major ouch.
He also fingered "the mainstream adoption of storage optimization technologies, a general trend towards keeping systems longer, economic uncertainty, and the ability of customers to address capacity needs on a micro and short-term basis through public cloud offerings."
Here's IDC's Storage Tracker data table for externally-attached storage: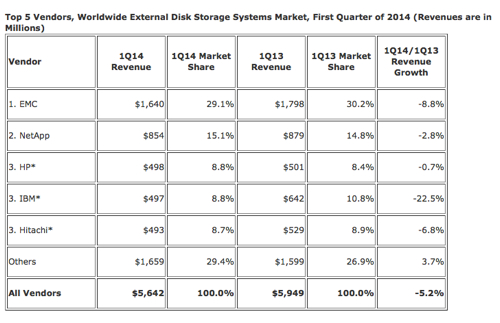 EMC lead with a 29.1 per cent revenue market share but its revenue growth was -8.8 per cent year-on-year (y-o-y), worse than the market as a whole (-5.2 per cent) because high-end array sales were so poor.
IBM did spectacularly badly, with a -22.5 per cent fall in quarterly revenues y-o-y. As NetApp and HP declined less than the market they arguably gained share. Dell, with a -8.8 per cent revenue fall y-o-y lost share.
Although NetApp, in the number 2 position for revenue market share, saw a market share rise year-on-year IDC shows it as having experienced -2.8 per cent revenue growth over the same period because its actual revenues fell.
We charted recent IDC Storage Tracker revenue market share numbers to see how things have been changing: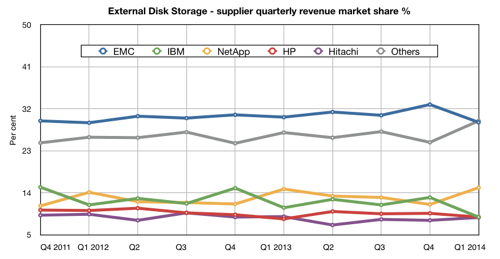 IDC External storage Q1 2014. Click chart for embiggening.
The graph shows the dramatic recent fall by EMC and the dramatic rise by NetApp.
Next the Storage Tracker looks at total storage, the sum of externally-attached (networked)and server-attached storage. Here's IDC's data table for total storage: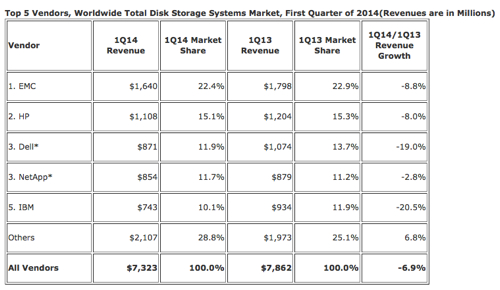 What can we see from this?
The market as a whole declined -6.9 per cent y-o-y in revenue terms, with NetApp only declining -2.8 per cent, meaning it gained share. Every other supplier identified in the table lost share:
IBM -20.5 per cent
Dell -19.0 per cent
EMC - 8.8 per cent
HP - 8.0 per cent
How very pleasing for NetApp.
Of course we charted IDC's recent quarterly numbers for total storage revenue market shares - not absolute revenues - to see the trends again: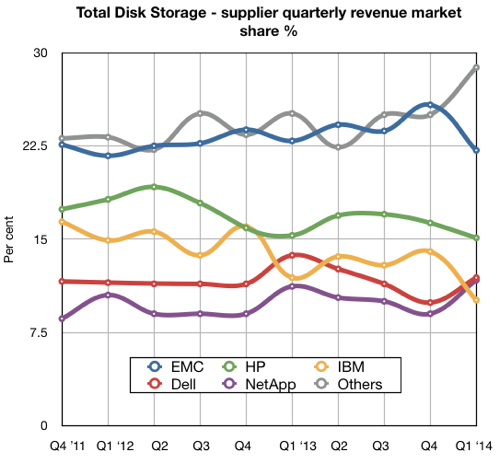 IDC Storage Tracker: Total Storage Q1 cy2014
NetApp, Dell and others up; EMC, IBM and HP down.
Is this just a quarterly blip or will the move to the cloud gather pace and the "Others" category, including hotshot upstarts like Fusion-io, Nimble, Pure, Tegile, Tintri and Violin, capture more disk array business with their flashy products?
Put another way; are we seeing the cloud and flash put a temporary or permanent kink in the disk array business?
Or is Big Data just not big enough? ®