Jellybean dominates Play, still seated atop rising KitKat
Sweet life threatened by Sammy?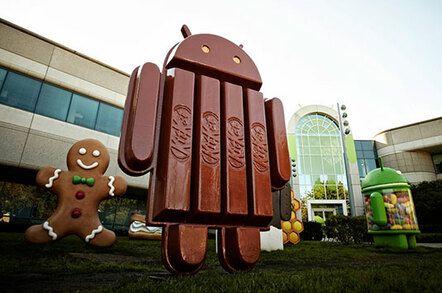 The KitKat edition of Android now accounts for 13.6 per cent of all devices hitting Google's Play store, the colossal advertising firm has disclosed.
KitKat is the fourth most popular edition of Android, eight months after it was released by Mountain View. The data comes courtesy of Google's Dashboard.
Jellybean, released July 2012, remains the fatty for KitKat to take down – in terms of overall and mostly individual version market share.
In total Jellybean accounted for 58.4 per cent of devices but version 4.1 was the single largest on 29 per cent, 4.2 was second on 19.1 per cent and 4.3 came in at 10.3 per cent. Gingerbread is still holding up, too, on 14.9 per cent.
KitKat – Android 4.4 - was likely helped with the release in recent months of a number of new handsets, particularly the Galaxy S5 from Android market-share leader Samsung.
Other devices also released include phones from HTC and LG plus low-priced units from Motorola.
While satisfying news for Google and Android fans at a higher level, the numbers demonstrate just how fragmented the Android market really is.
The hope will be that KitKat continues to grow and squeeze out its forerunners as people buy those new handsets and others yet to be released featuring KitKat.
Also, it'll be interesting to see what impact Samsung's involvement with mobile-Linux Tizen can have on KitKat's update.
Samsung has invested heavily in Tizen as Google has entered directly into phones, buying Motorla's smartphone business in 2012 for $125bn. The South-Korean electronics giant will this summer release its first Tizen phone, the Samsung Z, in Russia. ®