First iOS, now Android to get fondleslab Office ahead of Windows
Move would make Windows DEAD LAST in release cycle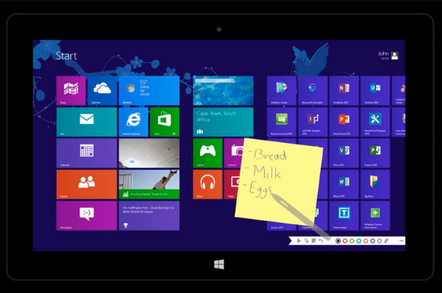 Microsoft is reportedly developing a tablet-optimized version of Office for Android devices, and it is scheduled to arrive before the Windows version.
Veteran Redmond beat writer Mary Jo Foley cited company sources in reporting that Microsoft was planning to release a Windows tablet-optimized version of Office in the Spring of next year, months after Redmond's Android team hopes to deliver a tablet-ready Office for that platform.
The release would mean that both Android and iOS would receive versions of Office optimized for tablets before Microsoft's own Windows platform. While the company continues to talk up its upcoming tablet releases of Office, thus far the iOS port is the only tablet-optimized version of Office available. According to Foley, however, the version of Office intended for Windows 8.1 tablets has been delayed, and will now makes its debut in early to mid 2015.
Microsoft released the iPad port of Office earlier this year, providing iOS fondleslabbers with a version of the productivity suite which piggybacked on the company's Office 365 service. The release marked the first time Microsoft released a new generation of Office on a non-Windows platform first.
Other versions of Office designed to run on conventional laptops will run on Windows 8.1 tablets, and the company offers Windows RT users their own version of Office. Tablet users can also take advantage of touch-friendly interfaces in Office 365.
Microsoft is not commenting on the matter, nor do we expect them to any time soon.
There's no doubt Redmond will eventually release a build of Office specifically designed to take advantage of its tablet platform, and there's little doubt that the release will toss in a few extra features and tools not found in other versions. Still, the plan shows just how far we've come from the days when Apple had to sell Microsoft a chunk of its stock just to get an Office port. ®
Sponsored: Becoming a Pragmatic Security Leader