We present to you: 840 fine, upstanding young disks stuffed into a rack cabinet – DDN
4.95 PB in a standard data centre rack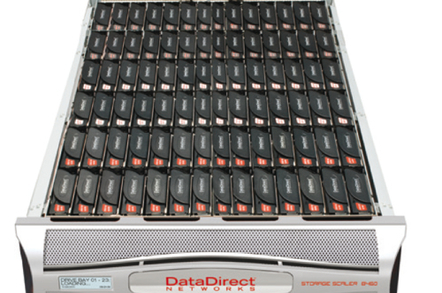 For maximum big data density, you basically need a rack full of disk drives and little else, and DataDirect has moved in that direction by stuffing up to 840 disks into a standard rack cabinet.
The idea is that HPC and big data environments need as much capacity in a storage rack as they can get. DDN reckons it offers up to 40 per cent more capacity than its competitors in this area.
The SS8460 enclosure is basically a drawer holding six rows of 14 drives stood upright and crammed together, like standing commuters in a crowded train. The cooling airflow and vibration control must have presented a few interesting challenges.
With 84 x 3.5-inch disk drives in a 4U shelf, we have a theoretical 504TB, using 6TB drives, in a rack – feel the weight of that data. A DDN data sheet [PDF] says a 42U rack can hold 4.95PB* of data using these enclosures.
We don't get it: 84 x 4TB drives makes 336TB in a SS8460 shelf. Ten such shelves equals 3,360TB, 3.36PB. If we substitute 6TB drives in the same calculation we end up with 5.04PB. An arithmetic error? We've asked DDN to clarify this.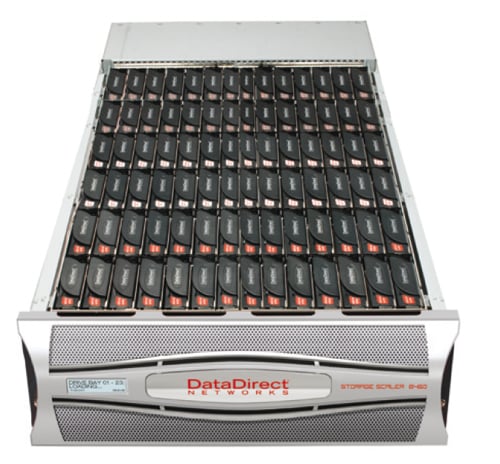 DataDirect SS8460 drive enclosure
The weight involved is serious. An SS8460 enclosure full of drives weighs 107.6kg (237.2 pounds), meaning a rack of the enclosures will weigh 1,076kg (2,372 pounds). Better get a strong floor.
There are multiple, redundant 6Gbit/s SAS data paths from the host interfaces to the drives – totalling 240Gbit/s internal bandwidth. SAS and SATA disks and SSDs can be inter-mixed in these enclosures or you can have enclosures dedicated to each type of drive.
The IO, power and cooling modules are dual-redundant and hot-swappable, as are the disk drives.
This box gives competitors Seagate (Xyratex) and Panasas something to aim at. The SS8460 is 35.2 inches deep (without its bezel and cable management and 38.7 inches deep including them). A recent Supermicro cold storage shelf holds 72TB in a 1U x 32-inch deep shelf with 12 drives laid flat in the box.
A 42U rack full of these shelves would store 3.024PB, which indicates you can get more drives in by standing them upright than by laying them flat. ®
Updated to add
* After publication, DataDirect changed its data sheet to indicate a 42U enclosure can hold 5.04PB. The biz said it initially uploaded an old 2012 PDF, rather than one from 2014.