Freeview's rumoured '£100m YouView killer' is real – and it's yet another digital TV thing
Streaming vids ... what will they think of next?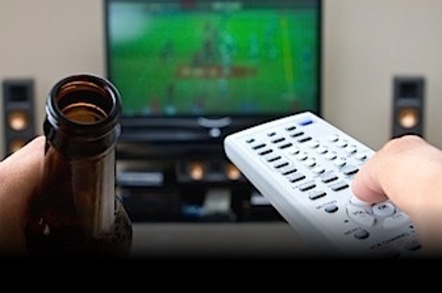 +Comment A new UK TV platform dubbed Freeview Connect has been officially announced after many months of rumour within the industry.
It will provide catch-up and other on-demand services for terrestrial UK broadcasters – much as YouView does today. The move leaves Freeview shareholder Sky, which has its own telly platform, out in the cold.
The initiative comes from Digital UK, which manages the now ancient Freeview platform. Freeview's shareholders are broadcasters BBC, Channel 4, and ITV, along with broadcast mast monopoly Arqiva, and BSkyB.
As such Freeview Connect, or whatever it's eventually called, will stream ITV Player, BBC iPlayer, 5 OnDemand and 4oD to suitable smart tellies and set-top boxes over the internet.
"The aim will be for manufacturers to launch a new range of connected Freeview HD televisions and boxes which consumers will be able to buy in store," Digital UK explained in a statement today.
"People will be able to watch the service via their TV aerial and current broadband provider without being tied to a contract. Details on launch timing and a brand name for the new service are to be confirmed."
The stealth project broke cover in February, but today was officially confirmed. Former Freeview managing director Ilse Howling has been appointed to run the project.
It's believed Freeview Connect has £100m in financial backing, spread out over five years, which matches the investment in YouView.
That means TV licence-fee payers must fork out for yet another telly platform, on top of YouView and Freesat. The BBC created YouView (initially dubbed Project Canvas) and as just last month the BBC Trust approved more funding for the YouView consortium. Now the trust has turned its back on its offspring.
In a letter to industry partners, Digital UK chief Caroline Thomson* wrote:
"Over the coming months, Digital UK and Freeview will work in collaboration with manufacturers and industry bodies to develop the offer.  Our aim is to build a simple, open proposition which will ensure connected viewing is available to everyone. We are confident that this joint venture will provide the industry and platform leadership necessary to deliver our long-term vision for [digital terrestrial television]".
Comment
Is there anything in Freeview Connect that can't be done by YouView today, or by someone setting up their own personal digital video recorder? These can be picked up for under £100, or on eBay for under £50. It's a good question, and one not answered by Digital UK today. The terrestrial broadcasters' universality commitments prevent them from putting much content where nobody can see it – like a new TV platform.
The rationale for the adventure becomes even more questionable since Freeview Connect will compete directly with YouView, and to a lesser extent with Freesat. Consumer confusion looks certain. And while the Guardian reports Digital UK vowing "to create an industry-standard technology", such tech already exists. The D-Book standards – which you can download here – cover everything from the old Freeview to Freeview HD and Freesat.
You can't help but think we're getting a new TV platform for vanity reasons. Somebody likes the idea of being Steve Jobs for a day. ®
* Former BBC chief operating officer Caroline Thomson received a £680,000 redundancy payoff in 2012, and a £1.92m pension, from the corporation that likes to be known as "Auntie".
Sponsored: Webcast: Why you need managed detection and response