iVEC seeks testers for petascale powerhouse
Can you break the new Magnus?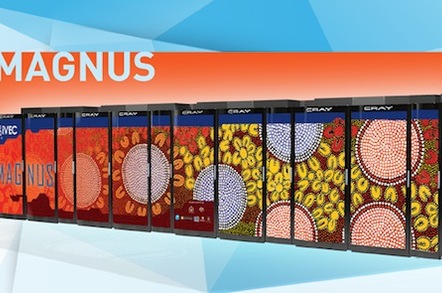 As it prepares to ramp up to petascale level, the iVEC supercomputer facility in Western Australia is looking for early adopters to run its iron through its paces.
iVEC's current Magnus machine, a Cray XC30 with 104 blades (four nodes per blade, two 8-core Intel Sandy Bridge processors) comprises a total of 3,328 cores delivering around 69 TFLOPS. From the start of July, the facility kicks off a serious upgrade to bring Magnus to the petascale level.
It'll grow from its current two cabinets to eight, each with 1,488 nodes of two 12-core Haswell chips and 64 GB of memory, taking Magnus to more than 35,000 cores and 95 TB of memory. Cray's Aries interconnect will hook the whole critter together, and there'll be 3 PB of scratch storage that can sustain a peak bandwidth of 70 GB/s.
During its August acceptance testing, iVEC wants "Petascale Pioneers" to give the machine some heat, and it's offering around 100 million core hours for testers. It's seeking projects that will stretch all aspects of Magnus, from its workload-handling to its communications. In an invitation sent to researchers, iVEC is asking for loads that:
Suck up more than 10 per cent of the machine on a given run, demonstrating "grand-challenge" scientific problems;
Communications-heavy operations that exploit the "speed and bandwidth of the Cray Aries interconnect and Dragonfly topology across a substantial portion of the machine; or
Working on how the new machine can improve the performance and scalability of existing or new applications.
Technical support and training will be available during the pioneer phase, and academics are invited to express interest and ask questions of iVEC via submissions@ivec.org. ®