Gunmaker finds KILLER APP for Google Glass
TrackingPoint software lets shooters aim around corners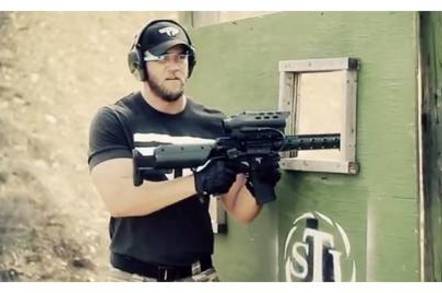 A US firearms manufacturer is touting a system that would allow a shooter to aim and fire a device via a wearable headset such as Google Glass.
TrackingPoint said that its ShotView software could be used with wearable headsets, mobile phones, or tablets to provide a direct feed with video and data from its Precision Guided Firearm (PGF) networked scope.
A concept demonstration video posted by the company Wednesday demonstrates how the ShotView system would connect via Wi-Fi to a Glass headset to show a heads up display (HUD) with data from blind spots or around corners. The shooter could then utilize a video feed and aiming tools to select and hit targets from around corners or behind walls.
Such a system could allow soldiers to fire more accurately in combat situations without further exposing themselves to injury, the company said.
The ShotView apps also have possible applications in hunting, target shooting, and instructional uses. Equipped with a connected tablet or handset, a secondary spotter can use the video feed from the scope to view data more accurately and with greater detail. The PGF is said to allow for accurate shots on moving targets up to 1,200 yards away.
A TrackingPoint spokesman told The Reg that while the app can be downloaded and used on iOS and Android devices, the Glass software shown in the concept video is not yet available.
And regarding availability in general – those who are looking to get their hands on a ShotView system may have to sit tight for a while. The company said that due to overwhelming demand they are currently accepting orders by application only. ®