You know what today's movies need? MORE DRONES
US aviation authority mulls it over after film crews ask for permits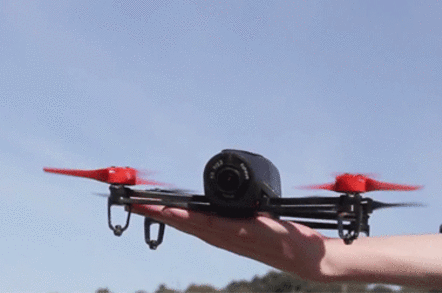 The US aviation authority is considering whether it should hand over permits for film and TV firms to use drones to take aerial photo and video shots.
Seven photo and production companies, backed by the Motion Picture Association of America (MPAA) have asked the Federal Aviation Administration (FAA) for regulatory exemptions that would allow the industry to use unmanned aircraft systems (UAS), as it likes to call them, for the first time.
At the moment, public entities - such as law enforcement, firefighters, border patrol, search and rescue among others - can apply for a waiver of the rules to allow them to use drones in civil airspaces.
Commercial requests have to be authorised on a case-by-case basis, which ensures they have a certified craft and licensed pilot. They also need to show that their operations would be safe for civilians and that allowing them would be in the public interest.
For the movie companies, the FAA said there "could be tangible economic benefits" to allowing drone use for cinematography.
"However, all the associated safety issues must be carefully considered to make sure any hazards are appropriately mitigated. The petitioner must still obtain operational approval from the FAA," the regulator said.
Neil Fried, senior veep of government and regulatory affairs for the MPAA, said in a statement that drones could actually offer production companies a safer way to film certain shots as well as giving movie-makers new creative options.
"This new tool for storytellers will allow for creative and exciting aerial shots and is the latest in a myriad of new technologies being used by our industry to further enhance the viewer experience," he added.
The FAA said that it had also been approached by companies from three other industries about drone permits - precision agriculture, power line and pipeline inspection and oil and gas flare stack inspection. ®