Kardashian's bottom plumps down on Instagram throne
Pint-size popsteur Bieber unseated by authoritatively-derrière'd celebutard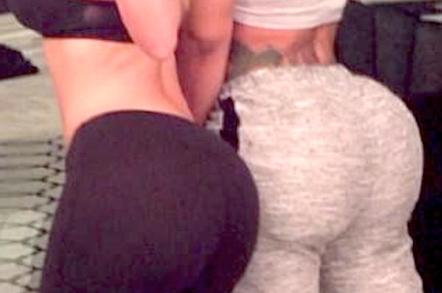 All those worried about the future of civilisation should look away now.
One of Kim Kardashian's wedding pictures has become the most liked image in the history of Instagram, garnering almost two million digital thumbs ups over the past week.
Some 1.96 million liked the following image, with 35.8 thousand people choosing to leave a comment. This makes it by far the most popular image in the history of the retro faux-photo app.
Some of the comments were typically charming. "Enjoy taping that ass West," said one heartfelt romantic, referring to Kardashian's legendarily prominent derriere. He may have missed out one of his letter p's, unless he literally wants Kanye to record said bottom for his next record.
Justin Bieber held the previous record for the most liked Instagram image, with this picture of the pint-sized pop prodigy taken from behind by his girlfriend Selena Gomez. It managed 1.82 million likes.
So that's the internet folks. Abandon hope all ye who enter. ®