Microsoft lobs Files app at WinPhone users with lots of ... uh ... files
Free add-on lets you easily organize your stuff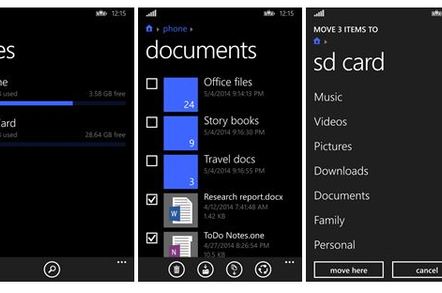 Microsoft on Friday shipped Files, its on-device file management app for Windows Phone, addressing a long-standing gripe some users have had with Redmond's smartphone OS.
Windows Phone chief Joe Belfiore first teased the app during a Reddit AMA on May 2, saying his team hoped to get it into the Windows Store "by the end of May."
Belfiore noted that many Windows Phone users had been asking Microsoft for an easier way to manage files on their devices, and many AMA participants seemed mightily pleased to hear that one was on the way.
The app itself uses Microsoft's so-called Modern UI, and it looks and functions very much like the existing Windows Phone app for Redmond's OneDrive cloud storage.
With it, you can navigate and search all of the files and folders on your Windows Phone, create new folders, and move and copy files in and out of folders as you see fit. You can also rename and delete files. In other words, it's a file manager – something that, while mundane, has been missing from the platform so far.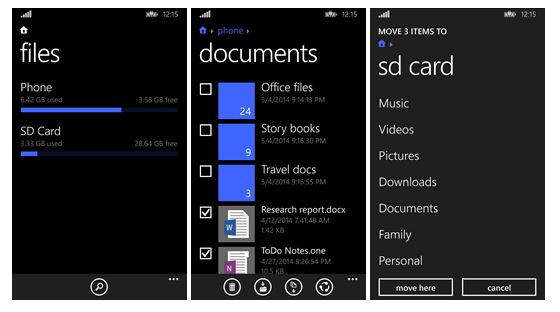 You know how this works, right?
In addition to the device's main storage, Files can also manage files stored on an SD card, for phones with expandable storage.
Microsoft says you can also send it requests for new features you want to see in future versions of the app, via either its UserVoice website or the feedback function in the Files app itself.
The app is available now as a free download from the Windows Phone Store, but there's just one catch: it's listed as only working with Windows Phone 8.1 – which, as all WinPhone fans should know, hasn't actually shipped yet.
Microsoft released a Developer Preview of Windows Phone 8.1 in April and issued a bug-fix update to it earlier this month, but so far the only way to install it is to be a registered Windows Phone developer or the owner of a "developer unlocked" handset. What's more, reviews from early guinea pigs users have been mixed.
Fear not, however. Redmond says the final version of Windows Phone 8.1 is almost here, and pending approval by carriers will begin rolling out as a free update to all current Windows Phone 8 devices in the next few months. ®
Sponsored: How to Process, Wrangle, Analyze and Visualize your Data with Three Complementary Tools