MH370 'pings' dismissed as false positives
Search zone abandoned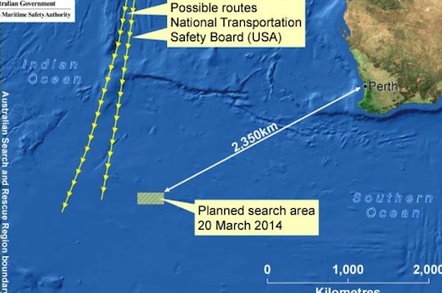 Updated A US Navy official has gone on the record as saying that the "pings" first thought to have come from missing Malaysian Airlines flight MH370 probably weren't from the aircraft's black box – and has almost immediately been spurned by his bosses.
Back in April, Australian prime minister Tony Abbott held a press conference in which he said the detection of the pings made searchers "very confident" that the signals came from the jet, which vanished on a flight from Kuala Lumpur to Beijing.
The search has concentrated on the southern Indian Ocean, on the basis that the flight is believed to have turned in that direction without explanation, and crashed after running out of fuel.
Michael Dean, the US Navy's deputy director of ocean engineering, told CNN the signals believed in April to be pings either came from the "pinger detector" that was towed by Australian vessel Ocean Shield, or from the ship.
He said that "Our best theory at this point is that (the pings were) likely some sound produced by the ship ... or within the electronics of the Towed Pinger Locator". He added that this opinion was shared by other countries involved in the search.
While the US Navy hasn't contradicted this, a spokesman, Christopher Johnston, says he was talking out of turn: "I am not saying that what Michael Dean said was inaccurate," said spokesman Christopher Johnston, "but what we are saying is that it is not his place to say it".
Although the pings seemed to repeat at the expected once-per-second rate, CNN points out that what was detected was at 33.3 kHz rather than the design frequency of 37.5 kHz.
The lead agency in the search, Australia, has ended the current phase of the search, which was being conducted using a Bluefin-21 autonomous underwater vehicle. The next phase, due to start in two months, will search an area of 60,000 square kilometres at a cost of $60 million, CNN says.®
Update: Since this story was posted, the Australian Air Transport Safety Bureau has told the Joint Agency Co-Ordination Centre (JACC), which has been running the search, that MH370 is not in the search area.
"The Australian Transport Safety Bureau (ATSB) has advised that the search in the vicinity of the acoustic detections can now be considered complete and in its professional judgment, the area can now be discounted as the final resting place of MH370", the Sydney Morning Herald reports JACC as saying. ®