X-IO shuffles senior staffers – but this isn't an IPO prelude
Internal promotions only? Sounds like a worried investor in the wings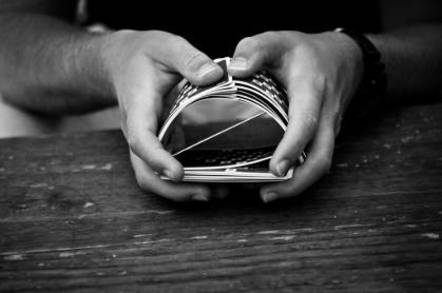 Analysis Storage firm X-IO has changed its CEO and made some other board-level changes as well as having some engineers working part-time. Companies don't generally do this, so what's happening here?
Incoming CEO Brian Owen has, in one way of looking at it, sidelined his incumbent CFO and HR head. CFO Ed Welch still holds his position, according to Owen, although his role is in "transition"; many of his responsibilities are moving to the "controller", Carole Gottlieb, who could become a new CFO.
However, she's not being identified as a future CFO by Owen - and he's not announced a search for a new chief beancounter either.
Owen told The Register that Molly Johnstone is still in post as head of HR, but she too is in a transitional role and Owen is working with an external HR consultant. Again, as we understand it, there isn't a search for a new HR head under way at the time of writing.
So, effectively, Colorado-based X-IO has changed its CEO, CFO and HR director all at once. David Gustavsson has also been promoted to COO from the engineering veep slot.
There is also a new VP for corporate marketing, Gavin McLaughlin, plucked from X-IO's EMEA region, who will do more outbound, solutions-type marketing than X-IO has done before. He reports to the CEO while still being based in Europe. Blair Parkhill, the incumbent VP for marketing, now reports to newly promoted COO David Gustavsson and is responsible at VP level for tech marketing.
Deckchairs rearranged, carry on normal jogging?
Are these changes streamlining the company for a transition to fast growth or is it battening down the hatches because the money is running out?
The company says it is changing direction and focus from selling its hardware in a detailed (some would say nerdy) way to selling it as part of a solution for virtualised servers and desktops, with an emphasis on the software that links it to a virtualised infrastructure. It aims to change its game, unlock its growth potential and boost its revenues.
While talking these changes over with a couple of industry insiders, another point of view - a diametrically opposite one - was suggested to me, noting that there had been no new funding announcement.
This, our source said, had the characteristics of a cheap makeover, with no expensive exec hires. Instead there were lower-cost promotions and transitions, costs being cut and the company prepared for a sale.
Ask X-IO, he said, if they've appointed an investment banker; a key question.
"No," says Brian Owen emphatically, going on to talk again about what he wants to do with X-IO. According to him the company's been too introverted with its marketing. Owen wants it to become more extrover, and more focussed on highly virtualised environments. "One of the best leads for us," he says, "is a failed NetApp environment where we go in and carry out second surgery."
Owen wants X-IO to make it easy for the products to fit into VMware, Citrix or other virtualised environments and be presented to potential customers as solutions.
The elephant in the room
We understand that a partner at Oak Investment Partners, the main funding VC and holder of two of the four board seats, helped bring Brian Owen aboard the company. Clearly the investors are concerned about X-IO's fortunes and future, but not to the extent of wanting to sell the company. Owen tells The Register he believes there is a lot of un-realised potential there and is putting his energies into bringing it out and getting X-IO moving.
X-IO's new view of its market puts it into competition with every other provider of networked storage to virtualised servers. The hybrid ISE 700 flash/disk arrays will be competing with pacemakers Nimble Storage, Tegile and Tintri, as well as all-flash arrays. Unless the ISE 700 offers a significantly better mix of price, performance, low maintenance costs and great hypervisor integration features compared to them, there is no reason, arguably, for its marketing makeover to drive significantly more sales than before.
It seems to the storage Vulture that X-IO's growth prospects depend on four key things:
Absolutely crisp, well-understood, believable and distinctive marketing messaging against the three leading hybrid array vendors and all-flash arrays for the virtual server networked storage business
Product superiority in terms of price, performance, low maintenance costs and hypervisor integration features vs the competition, in the use-cases it decides to go after
A hardware and software roadmap that strengthens its appeal in the highly virtualised environments
Execution, execution and execution, oh, and execution
If these exist then Brian Owen's X-IO - NeXt-IO? - could host itself from the also-rans of networked storage into the ranks of the main players. Fourth time lucky? Maybe. Let's wish the good ship X-IO favourable winds and fair sailing. We don't want to see another X-IO ex-CEO any time soon. ®
Sponsored: Minds Mastering Machines - Call for papers now open