Vodafone turns to EU, asks it to FORCE 'fair' fibre pricing
What's that BT? You call it 'pricing freedom'?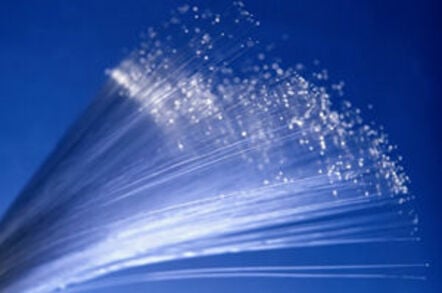 Vodafone needs to get high-speed handsets into the hands of consumers to effectively compete in the market. But the company also needs to worry about how to handle all that data – and it's hoping the European Commission will help it get its hands on some cheaper fibre.
It is hoping the EU will introduce mandatory price regulation and access to fibre in countries where Voda operates – thereby forcing the hand of various national watchdogs. For example, it was just last week that UK comms watchdog Ofcom decided not to impose price restrictions on BT's fibre products.
With 4G handsets capable of around 10Mbps and a cell site wanting to support large numbers of users, getting the data back is one of the major hurdles for networks. The problem has, of course, been around for a long time. Cellnet (which begat O2) originally said that backhaul limitation was a reason for not rolling out EDGE.
Vodafone has some of its own fibre, but for the rest it's forced to either rent space from companies with a lot of fibre capacity or use microwave links. But the growth in the demand for mobile bandwidth will soon exceed microwave's capabilities. Today a typical cell has a capacity of a little over 100Mbits/sec. But by 2020, Voda sees this as rising to nearly 1.4Gbits/sec.
Even throwing all of Vodafone's microwave backhaul at the problem, the network will fall short. The issue is worse in rural areas where sites are daisy-chained for backhaul. Using fibre offers a lot more capacity but Vodafone has found this an expensive option. Indeed one of the reasons Vodafone bought Ono and Kabel Deutschland in Germany was their significant fibre backbone.
To this end, the company has commissioned Analsys Mason to look into fibre pricing and access in six countries – France, Germany, Italy, Netherlands, Spain and UK. It concluded that operators in those countries that own a lot of fibre, such as Telecom Italia in Italy, have an unfair advantage and that the companies that don't have mobile networks but do have a lot of fibre are charging the mobile operators (such as Vodafone) too much for it.
Analsys Mason argues that the economies of those countries where there is regulation over the pricing of broadband have benefited, and Vodafone wants to pay less and be given access to ducts to run its own fibre where that would be a practical solution.
In an unusual move for Vodafone, the company has released a policy document at an event in Brussels to, er, encourage, the EU to bring in international regulation and mandate access and pricing for fibre.
Given the reaction from Vodafone and the other mobile operators when Brussels takes a view on mobile termination rates and roaming charges, it would be interesting to see what the company thought if the understanding of the economic benefits of better access were extended to MVNOs that want access to Vodafone's radio access network.
Ben Wreschner, Vodafone's head of regulatory economics, argues there is no need for Ofcom to look at allowing MVNO's access to networks because there are several similarly sized mobile networks – and that leads to a competitive environment where MVNOs can trade off offers. The situation with fibre is not the same as there is usually an incumbent telco which has both fibre assets and a mobile offering, he contends. In addition to looking for fibre regulation, Vodafone is looking for more microwave spectrum and to build and acquire more fibre. ®