Telecomms regulation neglected in anti-NBN crusade
While carriers argue over 'rack impact', innovation goes where, exactly?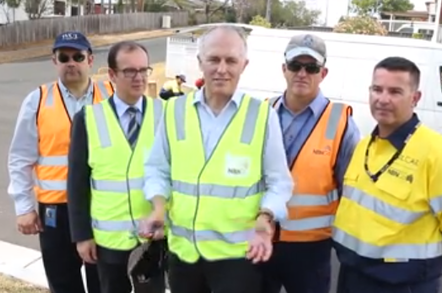 Here's an idea: instead of the $AU10 million worth of reviews designed to pursue an ideological crusade against the National Broadband Network, communications minister Malcolm Turnbull could instead get to work on fixing the creaking competition mechanisms of Australia's telecommunications industry.
It won't happen, of course: writing blog blog posts bloviating about "Labor's mess", popping up for photo-ops, and (Vulture South supposes) gleefully speculating about the future of the government of which he's part take up too much time.
In the last week, we've had shining examples of the kind of market failure the telecommunications regulatory regime is supposed to avoid.
The first came in the form of a row between data centre operator Megaport and its competitor, TPG-owned PIPE Networks, over the former's access to the latter's facilities.
It's no surprise that there might be friction between the two operators. Megaport was set up by Bevan Slattery who founded and sold PIPE to TPG; and TPG has aspirations to scale that don't include Megaport.
So when Megaport asked for rack space in a PIPE facility in Brunswick, along with permission to run fibre in duct space rented from Telstra, TPG objected on grounds since rejected by the Telecommunications Industry Ombudsman. If you want the full details, Megaport has published the decision here.
The most salient detail of the Megaport-PIPE row is this: it took from December 2012 to May 2014 for two carriers and regulatory intervention to work out whether a rack in a data centre can be counted as a "low impact" facility – something that had already been determined by previous cases.
That's hardly innovation at the speed of light.
Exhibit two: the ACCC's findings against the back-to-its-old-games Telstra. The incumbent, the ACCC says, is breaching its Structural Separation Undertaking (SSU) by giving retail employees access to information from its wholesale division.
Telstra is also failing to "introduce ADSL broadband service enhancements to retail and wholesale customers at the same time" – meaning that if a user wants to subscribe to an ADSL service via (say) iiNet, the answer might be that the service isn't available on their line, but things work just fine if the same request from the same customer on the same line is made via Telstra's retail operations.
In both cases, carriers are blocking access to a facility – the data centre in one case, the copper in another – and the only response is slow-motion regulatory intervention.
Meanwhile, Malcolm "a new review is my sword and my shield" Turnbull insists that a network that will produce zero multi-technology-model connections until Q4 2014 is sipping the "red tape day" Kool-Aid.
Since taking office, the minister has:
Made sure that legislation no longer mentions obsolete programs such as the shut-down of the 1G mobile network, as a trumpeted removal of red tape;
Streamlined the approval of submarine cables; </l>
Mishandled the promised NBN "black spot" fix;
Remade the NBN Co board in the image of Telstra;
Organised photo-ops and talked to conferences; and
Sat on the telecommunications competition regime as if it were a precious egg.
Saying farewell to legislative instruments governing the telegraph doesn't even rate as a symbolic gesture.
Australia would be better served by letting the industry innovate without having to pettifog over whether a rack is a rack.
But a fix of competition regulation would involve another review, wouldn't it? ®
Sponsored: From CDO to CEO