ARG! A GHOST SHIP! Pirates sunk by UK cops return from watery grave
Plunderers on jolly boat Torrentz.eu be laughin' at Queen's finest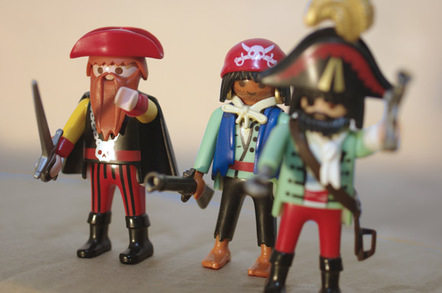 One of the world's largest BitTorrent search engines is back online after British cops successfully – but temporarily – managed to get the domain name Torrentz.eu switched off.
The website's registrar, based in Poland, had agreed to suspend the domain name following a written warning from Blighty's Police Intellectual Property Crime Unit.
But Torrentz.eu was later revived, reportedly because its lawyers argued to the registrar of the site, an outfit called Nazwa, that such action from UK authorities was unlawful.
DNS entries have apparently been restored. At the time of writing, Nazwa had yet to respond to a letter from Torrentz.eu's legal team requesting that the decision to suspend the domain name be reversed.
City of London Police said of the temporary suspension:
The Police Intellectual Property Crime Unit (PIPCU) has recently contacted a number of domain registrars hosting copyright infringing as part of Operation Creative, and as a result several major copyright infringing website have closed down.

Operation Creative is a ground-breaking initiative is designed to disrupt and prevent websites from providing unauthorised access to copyrighted content, in partnership with the creative and advertising industries.
The cops said that they typically contacted site owners about alleged copyright infringement of music, films, TV and other media, before taking any action.
They added: "If a website fails to comply and engage with the police, then a variety of other tactical options may be used including: contacting the domain registrar informing them of the criminality and seeking suspension of the site and disrupting advertising revenue."
The Register asked a spokeswoman at the City of London Police to comment on the fact that Torrentz.eu was now back online, but she was yet to respond to that line of questioning at time of writing. ®