Hang on, lads. I've got a great idea, says NetApp as it teeters on the edge
Don't worry about the falling sales, maybe Amazon will pour ONTAP into its mega-cloud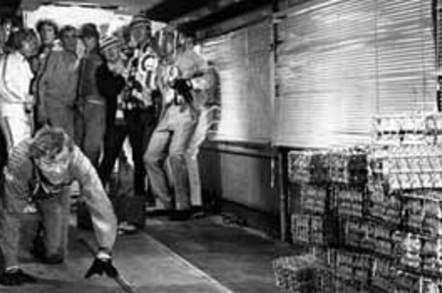 NetApp revenues are not exactly flourishing, and the storage biz admits it's facing a decline. As the company reveals its end-of-year figures, will the cloud finish off NetApp, or give it a chance to really boost sales?
Here are the figures [PDF] for fiscal 2014, ended 25 April: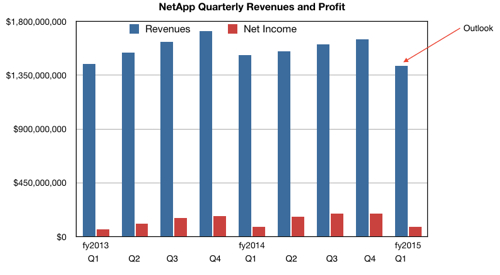 4th quarter, fiscal 2014, revenues: $1.65bn, down from $1.72bn a year ago, and up from $1.61bn a quarter ago.
4th quarter, fiscal 2014, net income: $197m, up from $82m a year ago, and matching $197m a quarter ago.
Full-year revenues: $6.325bn, pretty close to $6.33bn last year.
Full-year net income: $638m, up from $505m a year ago.
Branded revenue for fiscal year 2014 grew four per cent year-on-year, or six per cent sequentially, revealing revenue from other hardware makers (OEMs) fell.
Chief financial officer Nick Noviello said in an earnings call: "OEM revenue declined further than expected and was down 30 per cent from Q3, and 34 per cent from Q4 last year."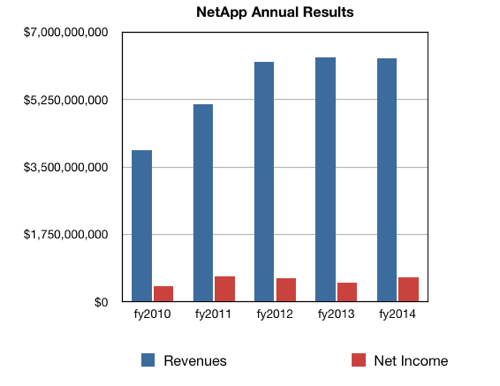 NetApp CEO and chairman Tom Georgens noted "unanticipated headwinds in our OEM business" in the earnings conference call. It looks like Big Blue may have become Big Bad Blue by selling a lot less OEM-sourced kit from NetApp.
The performance in the fourth quarter was solid, but that is not set to continue: the outlook for the next three months is for revenues to decline to somewhere between $1.42bn and $1.52bn, and earnings per share to be between $0.32 to $0.37 – 42 per cent down on this quarter's $0.59-per-share at the mid point, suggesting net income of just $82.7m, a tad up on a year ago.
Noviello added: "This sequential decline reflects our typical Q4 to Q1 seasonal revenue dynamics as well as conservatism around OEM business in light of our Q4 results and our future expectations given the business conditions impacting certain OEM customers ... For the year, we anticipate mid single-digit branded revenue growth ramping over the course of the year and partially offset by declines in OEM revenue of up to 40 per cent."
Fiscal 2014 was essentially flat compared to the year before, but the curves are turning down and, unless the outlook turns up, NetApp revenues could drop below $6bn in fiscal 2015.
Georgens said his biz gained market share in the fourth quarter of 2014, and was pleased with net income as a percentage of revenues – 11.95 per cent, the highest percentage since the first 2011 quarter (12.1 per cent).
He confirmed a refresh of NetApp's products was coming, such as an expansion of the FAS 8000 range. FlashRay's arrival was also mentioned, but no date provided. Georgens was very pleased with NetApp's flash portfolio; some 18PB of flash were shipped in the last quarter. He said: "I'll just state it flat out. I would not trade the flash portfolio of NetApp with the flash portfolio of any other company."
OEM business
The OEM business inside NetApp is beginning to look like a train crash. Analyst Keith Bachman from the Bank of Montreal asked on the call: "Why be in the business? It sounds like you are letting customers continue to take their business back. Why not be more proactive in taking the business to its natural state rather than watching it decline?"
Georgens replied NetApp would continue in the OEM business; NetApp is not going to kill it off – but, on the other hand, he did not announce any new strategy to grow it or reverse the decline. He did say that OEM deals, with the right investment, could be very profitable for NetApp.
NetApp and the Cloud
NetApp wants to provide a seamless private-public cloud data management environment by deploying its operating system, Data ONTAP, on customer premises and in public clouds, even the largest ones run by the so-called hyperscalers.
Georgens said: "We are also looking to embrace the hyperscalers into our data management framework ... all of [these] components of the cloud, both the traditional service providers and the hyperscalers, are integral to our overall strategy."
He added more clarity to his view:
The likelihood of our selling ... full systems to the hyperscalers to deploy in their environment is pretty low, because they've engineered their environment and written their own tools and in a lot of case they've written their own apps.

Would we consider unbundling our software and selling elements of our intellectual property to them? Absolutely, we would, because the data management problems that they face don't go away. There are still challenging problems. ... that's something that we will be open to under the right circumstances.
He's saying that hyperscalers could use ONTAP to seamlessly integrate their offerings with NetApp's on-premises installations. We're seeing this as ONTAP being layered in some way onto the hyperscalers' infrastructure, a front-end abstraction layer.
He mentioned working with OpenStack, and 200-plus cloud service providers already providing ONTAP-based services. He said: "The end goal is how do we create a set of services that could be consumed by the enterprise and then afterward the seamless expansion of on-premise computing and the data management that goes with it is very, very, very important to realising the hybrid cloud vision."
Low outlook
Why the low outlook for the next quarter? Noviello and Georgens emphasised the traditional pattern of a seasonal decline from the fourth quarter of one fiscal year to the first quarter of the next. This is all well and good, but the depth of the forecast decline suggests it could be more than that.
Analysts with dreams of the storage market's long-term transformation away from on-premises kit to the cloud will say: "See, that's the impact of the changes we're talking about."
NetApp might say: No, it's not; it's a tough market but we are on top of things, gaining share, and helping our customers embrace the cloud, not resisting it.
Will the hyperscalers buy into this and take ONTAP on board? If the terms are right, and they can tap into NetApp's customer base with its exabyte of ONTAP-managed storage, then why not? Amazon S3 ONTAP? It's not impossible. ®
Sponsored: Minds Mastering Machines - Call for papers now open