Google Fiber says it's happy to let Netflix onto its 'fast lane' for free
Take that, AT&T, Comcast, and Verizon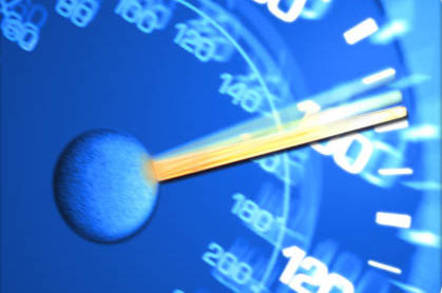 In a clear knock on recent shenanigans by US broadband providers, the Chocolate Factory's Google Fiber division has said it doesn't charge extra for an internet "fast lane," and streaming-video companies are even free to host their servers in Google Fiber's own data centers.
"We ... partner with content providers (like YouTube, Netflix, and Akamai) to make the rest of your video's journey shorter and faster," Jeffrey Burgan, Google Fiber's director of network engineering, said in a Wednesday blog post. "This doesn't involve any deals to prioritize their video 'packets' over others or otherwise discriminate among Internet traffic — we don't do that."
What Google Fiber does do, Burgan said, is encourage content providers to link their networks to Google's via peering, which Mountain View offers at no extra charge.
By comparison, Netflix has recently – yet reluctantly – agreed to pay extra fees to broadband providers Comcast and Verizon for "a much improved Netflix experience" on those companies' networks.
In an April blog post, Netflix VP of content delivery Ken Florance decried such "ISP tolls," claiming that under current market conditions, US broadband carriers will always be able to lean on content companies to pay extra fees because they can "simply refuse to provide capacity to any network at any time."
Burgan said Google Fiber, on the other hand, is not only willing to peer with Netflix for free, but it has actually invited Netflix to collocate its servers inside Google Fiber data centers, meaning content travels from Netflix to customers entirely over Google's gigabit-speed fiber optic links.
This allows Netflix customers on Google Fiber to view content at full 1080p HD resolution, Burgan said – something that's only possible when an ISP and Netflix enter a special peering arrangement – and even in 4K, if they have 4K TVs.
Similarly, the Akamai content-delivery network also keeps hardware in Google Fiber locations, Burgan said, and Google doesn't charge either company for power or space used.
"We don't make money from peering or colocation; since people usually only stream one video at a time, video traffic doesn't bog down or change the way we manage our network in any meaningful way — so why not help enable it?" Burgan said.
He said these relationships also actually save Google money, because it's easier to transport content from a local server down Google Fiber's "last mile" links to customers than it is to transport it thousands of miles from someone else's data center.
While getting your broadband from Google Fiber rather than one of the traditional telcos certainly sounds like a better deal from the customer's perspective, however, AT&T, Comcast, Verizon, and the others surely won't be shaking in their boots over Burgan's comments.
If the proposed merger between Comcast and Time Warner Cable is approved, the combined company would own just under 30 per cent of the entire US market – and that's after it sheds itself of 3.9 million customers, just to appease antitrust regulators.
Google Fiber, by comparison, currently offers broadband service in just three markets – Austin, Texas; Provo, Utah; and the greater Kansas City area – with exploration underway to potentially offer the service in nine other metro areas throughout the US.
Google is expected to announce the next round of cities that will get Google Fiber by the end of 2014. ®