Expulsion from Garden of Steven: Apple staffers tossed out of Fruit Loop
Slough-looking gaff good enough for the likes of 1,500 employees...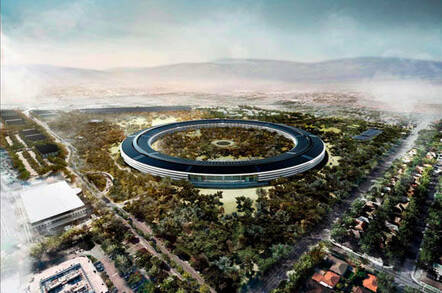 It you work for Apple, you're probably very excited about the supersized "spaceship" headquarters set to touch down in Cupertino.
But don't get ahead of yourself, because almost 1,500 unlucky employees are set to be sidelined into a boring-looking group of office buildings on the side of a dual carriageway.
Apple is planning to house 1,450 workers in a 290,000-square-foot seven-building office complex known as Sunnyvale Crossing, which is a few miles from its current Infinite Loop digs.
It's not even vaguely as glamorous as the "Fruit Loop" campus, and stands next to a busy road rather than nestling in a forest glade.
There are seven buildings in the newest campus, which looks like a groups of stereotypical office buildings.
Apple already has leases on several Santa Clara and Sunnyvale buildings, as it has already outgrown its Infinite Loop at Cupertino.
Google has also expanded into Sunnyvale as it runs out of space.
It is likely that staff will clamour to bag offices in the "Fruit Loop" HQ, which resembles a scout spaceship for some advanced alien civilisation. Sunnyvale Crossing, on the other hand, looks like something from the outer reaches of Slough.
Apple is understood to be interested in signing a lease of between seven and 10 years.
"Apple continues to grow, they are building e-commerce, support staff; they are adding new software and hardware products; they are hiring all sorts of high-level engineers," said Tim Bajarin, analyst with market researcher Creative Strategies. "This sort of expansion is more than justified."
"If there is a word to describe Sunnyvale and Silicon Valley, it is evolution," added Jennifer Garnett, a spokeswoman for the city of Sunnyvale. ®