Your mainframe's pegs not fitting in Amazon's elastic holes? Syncsort has a hammer for that
FOA CTO/CIO: ETLaaS AWS EC2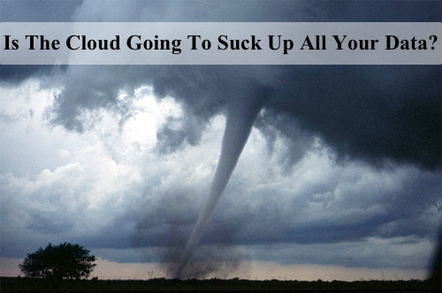 Syncsort wants to make life easier for Amazon cloud compute users who use data stored in mainframe storage silos and similar kit.
Its solution? ETLaaS – or Extract, Transform and Load (ETL) as a Service.
ETL products take data from a source, convert it as required, and then transfer it into the target system for processing. They are needed because the target system doesn't have the data stored in the right way for its software, and the source system doesn't have the compute applications to process the data it has stored.
Syncsort, originally a mainframe data sorting company, specialises in ETL products with its DMExpress line, recently rebranded DMX. A DMX-h product offers Hadoop data sorting. We can envisage mainframe data sources having information fed through ETL, and then processed by x86 server-based applications.
In November, Syncsort announced a DMX-h for Amazon's Elastic Map Reduce (EMR), calling it Ironcluster Hadoop ETL. This extracted and transformed data from on-premises systems and loaded it up into Amazon's cloud for EMR to process it.
Syncsort then stated: "Ironcluster will make it simple for customers to offload their expensive and inefficient data processing workloads from legacy data warehouses and mainframe systems into Amazon EMR. Customers will also be able to seamlessly move high-performance data processing workloads between Ironcluster on Amazon EMR and Ironcluster running within a customer's data centre on Hadoop."
Now Syncsort has extended Ironcluster to support Amazon's EC2 (Elastic Compute Cloud) "targeting the legacy ETL and data warehousing market with a cloud-based enterprise grade data integration engine for Amazon EC2 and Amazon Redshift".
Syncsort's CEO, Lonne Jaffe, said in a canned quote: "Customers are looking to move data workloads from expensive, inefficient legacy systems into low cost Amazon Redshift and Amazon Elastic MapReduce environments, and we're helping make that transition seamless and secure."
Source data stores can include legacy data warehouses, ETL suites and mainframe systems. Targets include Amazon's Redshift data warehouse. Syncsort claims "users of the new Ironcluster ETL for EC2 can experience up to a 75 per cent reduction in processing time and total cost of ownership when compared to legacy ETL approaches and tools".
The product also provides connectivity for Amazon's S3 and DynamoDB.
It seems more and more data is accelerating up the on-ramp to cloud-based processing apps. Once customers get used to processing data in the cloud, they'll think more positively about storing copies of their files in third parties' off-site systems, and then storing all their data in the cloud.
And then the solid rock that was their on-premises storage arrays will be revealed as a fragile eggshell from which the contents have been sucked out, leaving just the shell to implode.
Ironcluster ETL is available on the AWS Marketplace at no additional charge for small instances and at a low price, it claims, for medium and large instances. There is a free trial available here. ®
Sponsored: From CDO to CEO