Samsung mobes to get an eyeful of your EYE in biometric security bid
Iris scanners could come standard on future phones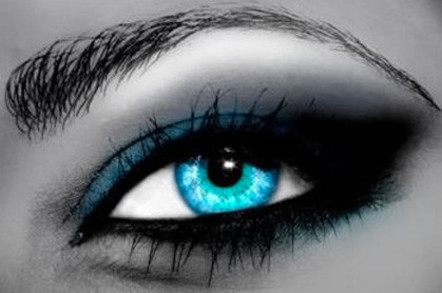 Samsung is looking to kick its competition with Apple up a notch by swapping fingerprint scanners in its smartphones for more advanced biometric devices like iris scanners, a company exec has said.
According to a report in the Wall Street Journal, Samsung senior VP Rhee In-jong, who heads the company's Knox security platform, told an investors' forum in Hong Kong that the Korean firm is exploring various new authentication methods.
"We're looking at various types of biometric [mechanisms] and one of things that everybody is looking at is iris detection," Rhee said.
Samsung's shipped its first phone with a fingerprint with the Galaxy S5, released in April – seven months behind Apple, which shipped the iPhone 5s with a fingerprint scanner in September 2013.
The scanners improve smartphone security by giving users a second, physical authentication method on top of their existing login passwords, PINs, or gestures. The trouble is, they're not terribly secure – at least, not by the standards of government work.
Hackers demonstrated a way to fool the Galaxy S5's fingerprint scanner using a fake fingerprint made of wood glue four days after the phone launched. And Germany's Chaos Computer Club was able to use a similar technique to bypass the biometric security on an iPhone 5s a mere 48 hours after it went on sale.
Iris scanners can be fooled, too. Scientists have long been able to generate images of irises that look enough like the real thing to deceive recognition systems, and security researchers demonstrated a method of mimicking the iris of a real person at Black Hat in 2012. But doing so is generally still harder than simply dabbing a little white glue on your fingers.
Also, while fingerprints can change as people age or the skin on their fingers becomes calloused or injured, permanent injuries of the cornea are far less common, and the appearance of the iris remains the same throughout a person's life.
Samsung appears to be hoping the addition of such advanced two-factor security to its smartphones will help strengthen the appeal of its Knox mobile security solution. The chaebol launched Knox earlier this year with the aim of toppling security-conscious BlackBerry – which, while losing customers left and right, still has plenty of loyalists in the government and enterprise sectors – but it hasn't had great success so far.
Rhee told the WSJ that 87 million devices have already shipped with the Knox components installed, but only around 1.8 million customers – or 2.1 per cent – are actually using the tech. ®
Sponsored: Becoming a Pragmatic Security Leader