US space-station crisis: 'We have enough of our own problems' sighs Russian deputy PM
Plus: 'That's not who we are at Mozilla'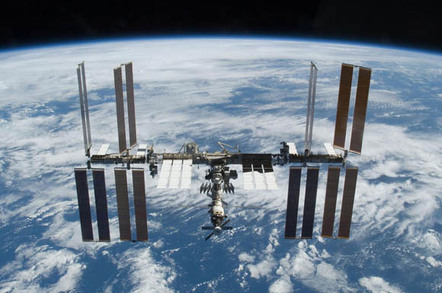 Quotw Google was dealt a blow this week when a US Appeals Court overturned an earlier ruling that Oracle's Java software interfaces (APIs) are copyrighted.
A jury had said Google's Android source code infringed Oracle's Java, but that decision was moot once Judge William Alsup decided APIs are not the kinds of things you can copyright in the first place.
Now, two judges on the Federal Circuit have ruled that APIs are copyrightable after all:
We are mindful that the application of copyright law in the computer context is often a difficult task. On this record, however, we find that the district court failed to distinguish between the threshold question of what is copyrightable – which presents a low bar – and the scope of conduct that constitutes infringing activity.

To the extent Google is arguing that a certain minimum number of lines of code must be copied before a court can find infringement, that argument is without merit
So even though the amount of code that Google lifted from Oracle's Java into Android is pretty small compared to the entirety of Java source code, it's still infringing. But it's not over yet for the Chocolate Factory. It still has a potential ace up its sleeve – its argument that using the APIs was "fair use". The lower court previously deadlocked on whether Android's adoption of copyrighted material qualified as "fair use" or not, but it will now have to decide.
Oracle was also back in the courts this week for another drawn-out battle, this time with arch nemesis SAP. In a struggle that's been raging on for years now, Oracle was trying to get three appeals judges to give it back the $1.3bn jury award it won over allegations SAP subsidiary TomorrowNow pinched a load of its support files.
TomorrowNow was apparently trying to provide software support to Oracle customers at a lower rate than Oracle itself in an attempt to coax them over to SAP products.
Oracle has a couple of arguments for why it should get such a whopping payout, including SAP documents that show the firm expected to make around $900m out of the stolen customers. But the judges aren't so sure that the docs are real evidence of the revenue SAP might have made. Judge William Fletcher said:
This may be sort of pie in the sky, dreaming… There are a lot of variables in there that make it somewhat speculative.
However, they don't seem that sure that the reduced amount of $272m awarded by the court is very fair either, with Judge Fletcher saying it seemed "wrong" to him.
In a very different sort of court, Google was told that it and other search engines must remove links to old material if someone complains and enough hoops are jumped through.
The European Court of Justice (ECJ) disagreed with an earlier advocate general opinion that said Google wasn't obliged to get rid of sensitive legal content from its results.
The case kicked off in 2010 when a man complained to Google's Spanish office that search results on his name showed a link to an old newspaper article from 1998 about a property auction prompted by social security debts.
The ECJ, which is made up of 28 judges representing each of the EU's member states, said this week:
The Court of Justice finds, first of all, that by searching automatically, constantly and systematically for information published on the internet, the operator of a search engine "collects" data within the meaning of the [1995 Data Protection Directive].

The Court considers, furthermore, that the operator, within the framework of its indexing programmes, "retrieves", "records" and "organises" the data in question, which it then "stores" on its servers and, as the case may be, "discloses" and "makes available" to its users in the form of lists of results.

Those operations which are referred to expressly and unconditionally in the directive, must be classified as "processing", regardless of the fact that the operator of the search engine carries them out without distinction in respect of information other than the personal data.
Some people claimed this was the creation of the "right to be forgotten", which didn't make Google a very happy tech titan at all:
This is a disappointing ruling for search engines and online publishers in general. We are very surprised that it differs so dramatically from the Advocate General's opinion and the warnings and consequences that he spelled out. We now need to take time to analyse the implications.
In other ad-based tech firm news, Mozilla said this week that it's sort of put a stop to plans to show in-browser adverts to new users of Firefox, but not really. Despite disguising the plan behind chatter about "directory tiles" that would "suggest pre-packaged content" on the open-source browser, some of which would be paid-for, users weren't fooled.
Mozilla veep Johnathan Nightingale said in a blog post:
A few months ago [veep of content services] Darren [Herman] posted about some experiments we wanted to do with the new tab page. It didn't go over well. A lot of our community found the language hard to decipher, and worried that we were going to turn Firefox into a mess of logos sold to the highest bidder; without user control, without user benefit.
But not to worry, faithful Firefoxers:
That's not going to happen. That's not who we are at Mozilla.
Or, at least, not exactly. Instead, Mozilla will go through a period of serving ads at folks, taking their comments and then probably just going with ads anyway:
But we will experiment. In the coming weeks, we'll be landing tests on our pre-release channels to see whether we can make things like the new tab page more useful, particularly for fresh installs of Firefox, where we don't yet have any recommendations to make from your history. We'll test a mix of our own sites and other useful sites on the Web. We'll mess with the layout.

These tests are purely to understand what our users find helpful and what our users ignore or disable – these tests are not about revenue and none will be collected. Sponsorship would be the next stage once we are confident that we can deliver user value.
Meanwhile, in the world of tech patents – which is a world that's clearly teetering on the precipitous brink of utter idiocy – Amazon has been granted a patent for taking photos against a white background. Yep, that's right. Passport-photo machines everywhere, beware.
Have we all finally slid into Wonderland, lost down the rabbit hole of irrationally madcap rules and regulations? Electronic Frontier Foundation's staff attorney Daniel Nazer, who in March was appointed to the organization's "Mark Cuban Chair to Eliminate Stupid Patents" chair, might agree:
Sometimes I feel that the patent system is a common sense–free zone. With the Amazon patent, this wouldn't be a hard patent to design around, but it's completely baffling that a patent on this would issued.
And finally, Russian Deputy Prime Minister Dmitry Rogozin has put the future of the International Space Station in doubt, saying his government was planning to suspend cooperation on the scientific endeavour and might even ban Americans from the station. The nations are quarrelling over US sanctions, imposed after Russia's activities in Ukraine.
Rogozin threatened:
These sanctions are out of place and inappropriate. We have enough of our own problems.

The Russian segment [of the ISS] can exist independently from the American one. The US one cannot.
He also tweeted:
@fka_roscosmos doesn't plan to continue cooperation with the US on the ISS after 2020

— Dmitry Rogozin (@DRogozin) May 13, 2014
If Russia pulls its support, America could be left without a lift to the station. While homegrown private-sector rocket startup SpaceX has made cargo deliveries to the ISS, it has yet to have an manned flight.
Rogozin also said that Russia would not be delivering its RD-180 rocket engines to the US unless it received a guarantee that the parts would not be used "in the interests of the Pentagon". The engines are used by the United Launch Alliance to blast spy satellites into space.
Rogozin said in a statement that the country had warned America that persevering with sanctions would affect the space programme:
We've repeatedly warned our colleagues at the political and professional levels (via the Federal Space Agency) that sanctions are always a boomerang.

They always come back around and are simply inappropriate in such sensitive spheres as cooperation in space exploration, production of spacecraft engines, and navigation, not to mention manned space flights. ®