Livermore lab opens Catalyst super to industry users
7,776 cores available for your number-crunching needs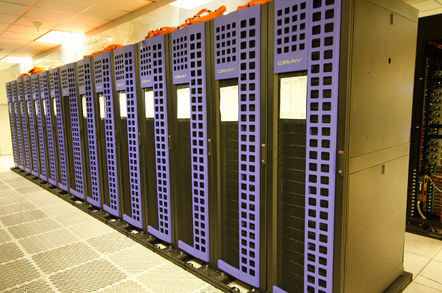 The Lawrence Livermore National Laboratory "Catalyst" supercomputer, which started sucking its first electrons in November 2013, is now open for industry workloads.
When Igor pulled the big red switch last year, the lab touted features like the 800 GB of Flash attached to each of its 304 nodes via PCIe, in addition to the per-node 128 GB of DRAM.
This, it said, was a big-data-specific-spec: the LLNL design mapped the solid-state drives into application memory to make it look like standard DRAM. In big data analysis apps, as Vulture writer Jack Clark noted at the time, "fast memory – and lots of it – becomes a priority".
The boffins now seem satisfied with how the Cray-Intel big box is working, and is seeking partnerships in "bioinformatics, big data analysis, graph networks, machine learning and natural language processing, or for exploring new approaches to application checkpointing, in-situ visualisation, out-of-core algorithms and data analytics."
According to the notice of opportunity here, the program will be offered to US companies through LLNL's HPC Innovation Centre.
Here's some more Catalyst data by-the-numbers:
304 dual-socket compute nodes with 2.4Ghz 12-core Xeon E5-2695v2 processors using the Intel TrueScale Fabric, for a total of 7,776 cores;
128 GB DRAM and 800 GB flash per node;
Dual-rail Quad Data Rate (QDR-80) networking fabric;
150 teraflops for the full Cray CS300 cluster.
®
Sponsored: Detecting cyber attacks as a small to medium business