Game of Thrones written on brutal medieval word processor and OS
George R R Martin explains his long-standing WordStar fetish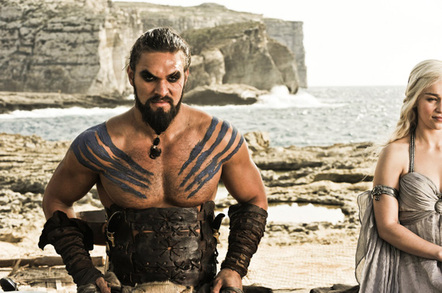 That Game of Thrones author George R R Martin writes his tomes and scripts using WordStar has been common knowledge for a while: he blogged about it back in 2011 .
Yesterday the chronicler of the cruel pseudo-medieval Seven Kingdoms popped up on US chat show Conan and explained why.
As you'll see in this excerpt from the interview Conan indulges in a little light banter and then feeds him a question about his computers, which Martin answers as follows:
"I have two computers, I have the computer I browse the internet on and do my email on and my taxes on. And then I have my writing computer which is a DOS machine not connected to the internet."
Martin the says he uses WordStar 4.0 as his word processor, which elicits laughs from the studio audience, but justifies his choice by saying "I actually like it."
"It does everything I want a word processing program to do and it doesn't do anything else. I don't want any help. I hate these modern systems where you type a lower case letter and it becomes a capital. I don't want a capital. If I'd wanted a capital I would have typed a capital!"
Martin says he also hates spell check, because the made-up words he uses in his work is often corrected for him.
There's a certain symmetry to the choice of WordStar and DOS. Martin's work depicts a brutal time in which the available technology is clunky and unreliable and magic is still in limited use. WordStar and DOS come from a time in which PCs were brutal and digital technology was clunky and unreliable, but Macintoshes were in limited use. ®
Sponsored: Detecting cyber attacks as a small to medium business