Comcast exec says wired broadband customers should pay-as-they-go
'Usage-based billing' could arrive in next 5 years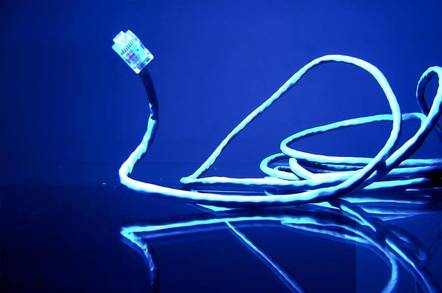 US broadband customers should expect to be charged wireless-style fees for their wired internet access in the next few years, an executive from US broadband mega-giant Comcast has revealed.
"I would predict that in five years Comcast at least would have a usage-based billing model rolled out across its footprint," Comcast executive VP David Cohen said at an investor event in New York City on Tuesday.
Under such a model, Cohen said, Comcast customers would be allotted a specific amount of bandwidth that's included in their monthly charge – say, 300GB – and they would pay in increments for anything after that.
According to Cohen, the move is all about fairness. "People who use more should pay more and people who use less should pay less," he said.
Comcast has long monitored its customers' internet usage, but in the past it was always with a mind to cut off access for the most bandwidth-hungry users.
With a growing number of Americans using streaming-media services like Netflix and YouTube, however – which already eat up nearly half of all US internet capacity during peak hours – Comcast and other broadband providers are now realizing that it may be more profitable to charge more for heavy usage, rather than lowering the boom.
Indeed, Netflix has complained that Comcast is already "double dipping" by forcing streaming content providers to pay extra fees for unfettered access to its network, while simultaneously charging its own broadband customers for the same service.
But Cohen dismissed that complaint, saying that Netflix owner Reed Hastings just wants "free transit" on Comcast's network, even though its traffic occasionally accounts for as much as one-third of all of the available bandwidth.
"And if Netflix doesn't bear its share of those costs to connect to the network then we have no choice but to raise prices for everyone else," Cohen said. "And ... why should two-thirds of the people who never use Netflix pay for the cost for Netflix to attach to our network? It doesn't make any sense."
Cohen added that Comcast's current bandwidth caps only ever affect around 2 per cent of its customers, and that the ceiling for usage-based billing would be similarly large, so that most of Comcast's customers would never find themselves buying extra bandwidth.
"I don't think we will want to be in a model where it is fully variablized and 80 per cent of our customers are implicated by usage-based billing and are all buying different packets of usage. I don't think that's the model that we are heading toward," he said. He added, "But five years ago I don't know that I would have heard of something called an iPad, so it's very difficult to make predictions." ®
Sponsored: Your Guide to Becoming Truly Data-Driven with Unrivalled Data Analytics Performance