Canonical teams up with Tranquil PC to deliver Ubuntu cluster-in-a-box
Instant OpenStack that fits on a desk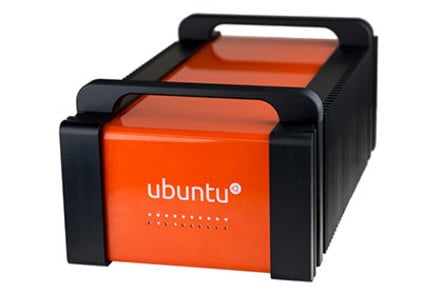 OpenStack Summit Canonical is getting into the hardware business – albeit in a very limited way – to help customers who aren't ready to build out their own clusters start experimenting with private clouds based on Ubuntu and OpenStack.
Announced at the OpenStack Summit in Atlanta, Georgia on Tuesday, the Orange Box is a turnkey mobile cluster with ten nodes, all enclosed in a single ruggedized case about the size of a breadbox and weighing a total of 32kg (70.5lbs).
Each node is based on an Intel Next Unit of Computing (NUC) D53427RKE microserver, with a Core i5-3427U processor clocked at 1.8GHz with Intel HD Graphics 4000, 16GB of DDR3 RAM, and 120GB of SSD storage for a total of 1.2TB (which canonical calls "generous").
The first node (Node 0, to you) also contains a 2TB spinning-rust hard drive and Intel Centrino Advanced-N 6235 Wi-Fi adapter for connecting the box wirelessly via 802.11agn.
Internally, the nodes are all linked via a Gigabit Ethernet fabric that runs over a D-Link DGS-1100-16 managed switch with 802.1q VLAN support. Six GbE ports are also exposed on the real panel, which can be used to connect to LANs or even to cluster multiple Orange Boxes.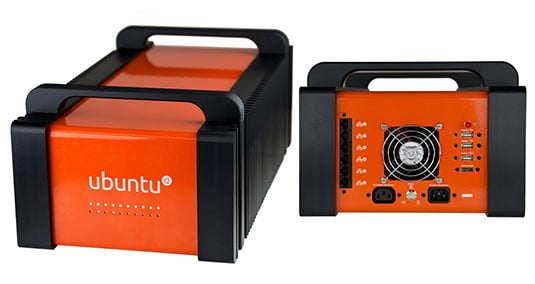 Canonical has reinvented the "luggable" with a complete, ten-node cluster in a mobile box
The box is designed to run quiet, with each node passively cooled via aluminum heat sinks and just a single fan to cool the 100-240V power supply.
The box comes preinstalled with 64-bit Ubuntu 14.04 LTS on each node, plus Canonical's metal-as-a-service (MaaS) and Juju management and configuration automation tools. From there, customers can deploy multiple workloads, including OpenStack but also Cloud Foundry, Hadoop, and other services available as Juju Charms.
Canonical has contracted Manchester, UK–based Tranquil PC to build the boxes, which is selling the baseline configuration for £7,575.00 ($12,750) with a monitor, keyboard, and mouse included. Individual cluster nodes can also be upgraded with extra storage, raising the price.
Additionally, Canonical says it plans to use the box to provide "Jumpstart Training" to help customers get up and running with OpenStack. Canonical engineers will deliver a loaner Orange Box to your site, set it up with the requested workloads, provide a couple of days' initial training, and leave you to get hacking.
They'll come back for more debriefing and training after you've had a couple of weeks to mess around with the system, and will help you get your workloads running on your own infrastructure – all for the low, low price of $10,000 (£5,940). If you're interested, you're encouraged to contact Canonical to see if the program is a fit. ®
Sponsored: Detecting cyber attacks as a small to medium business