BlackBerry opens devices to third-party management – including its new, sub-$200 Z3
First Foxconn-built BlackBerry lands as Indonesian exclusive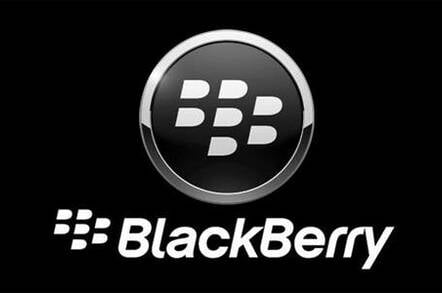 Ailing BlackBerry has launched its first new mobe since John Chen took over as CEO in November, and to help drum up interest in its flagging handset business, it says it will for the first time let customers use other companies' software to manage BlackBerry devices.
Chen has repeatedly insisted that he won't dump BlackBerry's handset division – despite some shareholders wishing he would – but he isn't exactly charging back into the market, either.
The new BlackBerry Z3 isn't a flagship device and it doesn't try to go head-to-head with flashy mobes from the likes of Samsung and HTC. Instead, it's a budget handset – initially available only in Indonesia – that targets a similar demographic as Nokia's Lumia 520 or Motorola's new, cut-rate Moto E.
The Z3 is also notable as the first device to come out of BlackBerry's partnership with Taiwanese manufacturing giant Foxconn, which Chen forged last year as a way to avoid the kinds of debilitating inventory writedowns the Canadian firm has experienced in the past.
At the heart of the Z3 is a Qualcomm Snapdragon MSM8230, a modest SoC featuring two Krait 200 CPU cores clocked at 1.2GHz and an Adreno 305 GPU. It ships with 1.5GB of LP-DDR2 RAM, 8GB of storage, and it accepts microSD cards up to 32GB.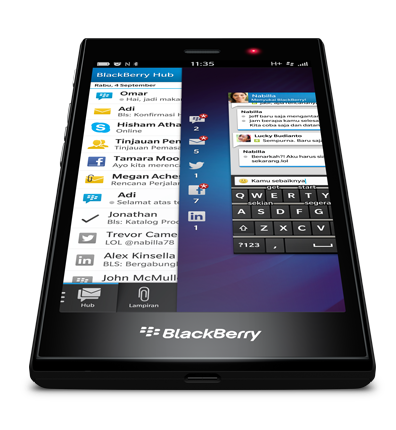 BlackBerry Z3, Jakarta Edition, is a midrange mobe
optimized for the Indonesia market
It has a 5-inch, 540-by-960 resolution touchscreen, a 5MP front camera, a 1.1MP rear camera, and a non-removable 2500mAh battery that BlackBerry claims will give up to 15.5 hours of talk time. It does tri-band UMTS/HSPA+, quad-band GSM/EDGE, 802.11bgn, and Bluetooth 4.0, but not LTE. And no, it doesn't have a keyboard.
As we've said, it's not exactly a barnburner, but it can be preordered now for just 2.199m Indonesian rupiah ($192), putting it right at that "sub-$200" price point that Chen promised earlier this year.
If it seems odd that Chen would make the first handset under his tenure exclusive to Indonesia (even at launch), it may be because Indonesia has traditionally been a BlackBerry stronghold, but the Canadian firm has lately seen its market share overtaken by cheap Android handsets like the Samsung Galaxy Core. The Z3 launch can be seen as a test case for how well BlackBerry might be able to recover its former position in this and other markets.
To that end, BlackBerry seems to be taking the Motorola-like approach of offering unique perks that add value beyond the device's core specs. The Z3 is being launched in Indonesia in an exclusive "Jakarta Edition," which claims to offer the best Indonesian typing experience on any touchscreen phone, whether the user is typing in Indonesian, in English, or switching back and forth.
Mobile device management? Yawn, whatever...
Meanwhile, when it comes to device infrastructure, BlackBerry is actually trying to be less exclusive. The company announced on Tuesday that it is opening the BlackBerry platform to allow customers to use third-party mobile device management (MDM) software to manage their BlackBerry 10 devices, something it had not previously allowed.
In a canned, in-house interview, BlackBerry enterprise prez John Sims said the move wouldn't hurt the company's backend software business because BlackBerry has moved past MDM to focus on enterprise mobility management (EMM) – a more ambitious buzzword that includes not just managing what's on the handset, but also things like compliance auditing, data security, and integration with network directory services.
"MDM has become table stakes; it is no longer a meaningful point of differentiation," Sims said. "The differentiation for BlackBerry in the future will be our ability to enable secure, productive mobile communications, collaboration and other applications."
AirWatch, Citrix, and IBM will be the first companies to offer management support for BlackBerry 10 devices, Sims said, with more potentially to come.
Of course, whether the new feature will make those packages more attractive to customers depends entirely on whether those customers use BlackBerry devices at all, something that's becoming increasingly rare. According to the latest figures from IDC, the Canadian firm saw its worldwide shipments shrink by 40.9 per cent from 2012 to 2013, and by the end of the fourth quarter of 2013 its market share had dropped to just 0.6 per cent. It will take more than the Z3 to reverse those trends. ®
Sponsored: How to get more from MicroStrategy by optimising your data stack