BEAK DRONE: 1080p HD Wi-Fi quad-copter by Parrot takes to skies
Forget Peak Drone, this is the ultimate SELFIE util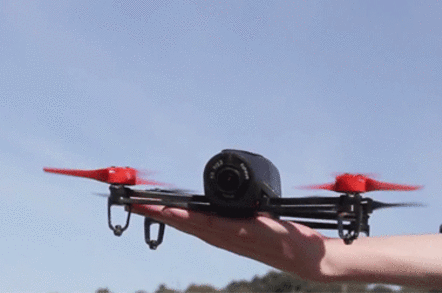 Vid French phone-accessories-maker-turned-drone-manufacturer Parrot has built a quad-copter with a super wide-angle lens and hi-def cam.
Like its predecessor, the Parrot AR Drone, the new BeBop has a polystyrene foam shell that protects itself and whatever it collides into.
Also, like the earlier version, you control the device by Wi-Fi. The drone talks to your Android or iPhone and transmits back live video. There is a new version of the FreeFlight app to accompany the new model.
Overall, the improvements to the hardware are substantial: it has improved three-axis stabilisation, it's capable of decent outdoor flight, and it packs a wide-angle 1080p video camera. It'll work with virtual-reality headset Oculus Rift, which puts you in the pilot's seat.
With GPS in the device, you can set a path for it to fly from the app by marking waypoints. This is an interesting move to autonomous controls, and explains why it was launched at the Association for this year's Unmanned Vehicle Systems International's Unmanned Systems Convention.

Parrot drone ... A spy in the sky for the iPhone generation
Wi-Fi has a limited range so Parrot has a new handheld controller into which an iPhone or iPad can be slotted. This gives radio-controlled-model-like controls and an antenna with a two-kilometre range. You'll want to be careful about how far you let it fly, however, as the drone only has a 12-minute battery life.
Youtube video of the thing in action
There is no announcement on price or availability for the Bebop. As a guideline, the AR Drone 2.0 sells for about £300 ($500).
While the Parrot BeBob is optimised for shooting videos, the 14Mp camera makes it ideal for shooting selfies from a very high angle which is perfect for eliminating double chins. ®