Storwize embiggened: Nearly 4PB of raw capacity, croons IBM's Barry Whyte
SAN Volume Controller gets a boost as well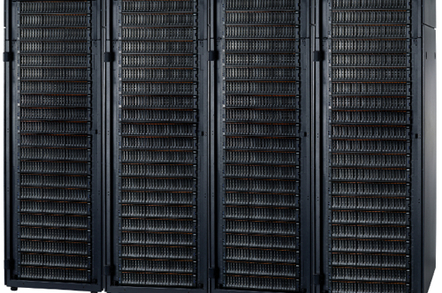 IBM has substantially refreshed its SVC (SAN Volume Controller) and Storwize storage array products, providing doubled processing power, boosting compression power as well as increasing Storwize capacity to around 4PB, it claims.
There are two detailed blogs about the new hardware and software: one from Master Inventor Barry Whyte and the other Tony Pearson, also an IBM Master Inventor.
Pearson ventures this claim: "Having sold over 55,000 systems and managing over 1.6 Exabytes of data, IBM continues to be the #1 leader in storage virtualisation solutions." That's a claim that will be evaluated and probably denied by EMC, HDS and NetApp, and probably HP as well.
The Storwize family of products looks like this:
SAN Volume Controller (SVC)
Storwize V7000
Storwize V7000 Unified
Flex System V7000
Storwize V5000
Storwize V3700
V3500
SVC refresh
The SVC 2145-DH8 follows on from the previous 2145-CG8 product, which came in a 1U X86 server node enclosures, with each needing a 1U UPS box for cache protection as well. Now we have a 2U box which contains two hot-swap batteries instead of the separate UPS. It has a new engine featuring:
Dual socket 8 core Xeon CPU - based on the Ivy Bridge core design - and additional 32GB RAM
One or two compression cards with Intel QuickAssist chip to speed compression and replace previous SW-only compression
Ability to attach up to 48 SSDs via 12gig SAS cables instead of having four smaller SSDs inside the node as before
Six Hardware Interface Cards (HICs) that provide either 8gig FCP, 10gig iSCSI/FCoE, or SAS plus 3 x 1GigE ports for iSCSI and admin
IBM is the first array supplier to bring Intel's QuickAssist chip to market.
The 48 SSDs are inserted into a separate 2U shelf, based on the new Storwize 12gig SAS expansion enclosure, which provides up to 38.4TB of flash storage for an SVC IO group. The old 2145-CG8 SVC can be upgraded to the new product or it can be added in to an existing SVC cluster.
Whyte says: "The DH8 provides around 2x the IOPs and up to 3x the GB/sec [of the CG8] - watch out for some new SPC benchmarks to prove this soon."
Storwize V7000 upgrade
Storwize V7000 processor canisters were fitted with a four-core processor and 8GB of RAM. They are substantially boosted in their Gen2 form by having eight-core processors and 32GB of RAM - like the SVC hardware, and this can be doubled to speed compression. A control enclosure has two canisters - this is a dual-controller array - and so features 64GB to 128GB of memory per V7000 IO group.

Storwize V7000 controller
There is a single compression chip on a canister's motherboard with an optional second one, again like the SVC, and each canister has 3 x HIC slots. The two canisters are placed side by side as with the V5000 and V3700 products, instead of one above the other as before.
There can be 24 x 2.5-inch drives in a V7000 control enclosure and there can be up to 20 12gig SAS-connected expansion shelves. These can contain 24 x 2.5-inch (300GB to 1.2TB) or 12 x 3.5-inch drives (2TB, 3TB and 4TB). That means a control enclosure can access up to 504 drives, with up to 1,056 in a 4-way Storwize cluster. The drives can be high-performance or nearline drives or SSDs (200GB, 400GB or 800GB) with types intermixed within an enclosure.
Whyte says: "V7000 Gen2 is approximately twice the performance and more than 2.5x the GB/s [of the Gen1 V7000] pushing up to 40GB/sec throughput from a clustered system - direct from disk (not cache hits!)"
The new V7000 can be added to existing V7000 clusters.
Note that IBM intends to enhance the Storwize V7000 Model 524 to support 16 Gbit/s Fibre Channel connectivity. Read the announcement letter here.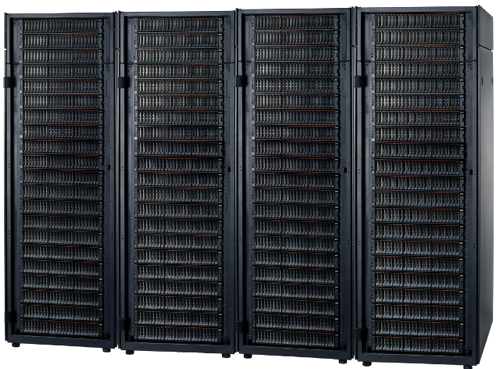 Four racks of V7000 enclosures
V7000 software
V7.3.0 of the Storwize operating system supports the new hardware and has additional features:
EasyTier 3 sub-LUN tiering increases from two (flash or HDD) to three levels (flash, enterprise 16K and 10K disk, nearline disk)
V37000 can now have up to nine expansion boxes (and 240 drives) instead of four
V5000 moves up to nine expansion boxes (480 drives) from six
Storage Pool Balancing ensures all storage within a given pool is balanced – every managed disk in the pool is delivering the same performance
New cache design to decrease latency
Whyte thinks Storage Pool Balancing is important, commenting: "This can give dramatic improvements; we've seen test data showing that a balanced pool can provide varying degrees of improvement, some as much as 3x with 1/3 the latency, just by letting the function learn and move the extents."
There is new file access software, v1.5 of the Unified File Module, which adds NFS v4 and SMB v2.1 to the existing NFS v3, CIFS, FTP, HTTPS and SCP protocols. There are other additions such as multi-tenancy and OpenStack Cinder support for files on the V7000. There is an IBM announcement letter available for the new Storwize family software.
The upgraded SVC and Storwize V7000 will be generally available on 6 June, except in India which has to wait until 19 September. One particular model, the V7000U with "feature 1173", won't be available until 18 July. ®
Sponsored: Beyond the Data Frontier