Beached whale Symantec watches revenues recede 7%
Cost-cutting alone won't haul it into healthy growth waters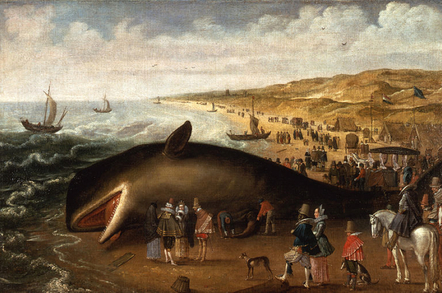 Symantec's latest results show that you can wring more profit out of declining revenues by slashing costs but its not enough to bring you back to growth.
Revenues in its fourth fiscal quarter of 2014 ended 28 March were $1.63bn, seven per cent down year-on-year, but net profit jumped 14 per cent to $217m.
The full year numbers saw revenues drop three per cent on fiscal '13 to $6.68bn, with net income of $898m up 19 per cent.
The main conclusion is that former CEO Steve Bennett's attempts to bolster the top line didn't come off but he did manage to remove a heap of costs, largely by chopping workers, including a layer of middle managers.
All this leads the storage desk to ask: where does the beached whale of Symantec go from here? Right now it's dealing with stalled antivirus product revenues and the company's board reportedly calling in an investment bank to look at strategic options, for example carving up operations.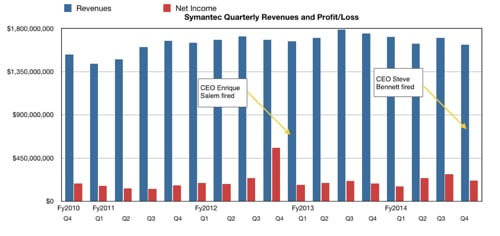 Click the chart to see a larger version
The canned results quote from Michael Brown, Symantec interim president and CEO, didn't provide any information about that, contenting itself with this:
"Our fourth quarter results, led by better performance from our sales teams and cost reductions, demonstrate the underlying health of our business. In the new leadership team's first 40 days, we've taken important steps to accelerate the pace of our transformation. There are substantial opportunities for us to improve our growth profile, maximise profitability and create value, and I'm confident we have the right team and plans in place to achieve our objectives."
This is just mere cheer-leading with little substance. Consider the "right team and plans in place to achieve our objectives" phrase. Symantec is looking for a new CEO and that person would obviously make new plans. It is also looking for a Chief Products Officer.
He said the board's ideal CEO candidate will have an "understanding of the technology landscape, expertise growing a multi-product business at scale, and a strong record of collaborative leadership."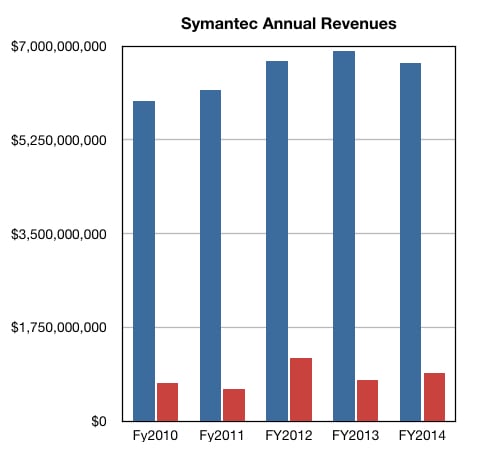 As one would expect, Brown bigged up Symantec's storage assets, "In backup … we are the market leader with 30 per cent market share and growing at a rate that has outpaced the market for the past few years, we will continue to drive innovation in NetBackup and bring to market differentiated appliances, where we've got the fastest growing backup appliance in the industry. … In storage management, we're investing in promising technologies such as software-defined storage, object storage, and Disaster Recovery as a Service, all of which we believe will be multi-billion dollar markets."
The company is also changing its security focus: "In security, we are expanding our focus from 'prevention' to 'detection & response' to solve the advanced threat detection problem in a differentiated way. … we'll be offering an industry-leading advanced threat protection solution which integrates protection across the gateway, email, and endpoint to deliver better multi-tier security. This offering includes Synapse, a new capability that integrates telemetry data across endpoints, gateways, and email to reduce false positives and operating costs for customers."
CFO Thomas Seifert said cost-cutting and efficiency searching will continue: "We see further opportunities to streamline our operations and drive ongoing operating margin expansion, with the near-term goal of achieving 30 percent non-GAAP operating margin by Q4 '15. We will also continue to return significant capital to shareholders while maintaining a strong balance sheet."
These "expense reduction initiatives" include consolidating real estate, data centres and product support, trying to boost R&D efficiencies and sales productivity and trying to "optimise the economics of our channel programes".
Channel types have been largely bewildered by Bennett's exit, claiming he was listening to them but wasn't given enough time to do the job he was tasked with, to turn around the operations.
Symantec's talk is all about persuading investors to stick with it while the board looks for a new chief exec and strategy to fire up the sales engine. Eventually cost-cutting will run its course and revenue declines will hit profit and the share price.
Brown added:
"We expect to return to revenue growth during the second half of fiscal '15 and expect to build from there. Greater than 5 per cent revenue growth is firmly on our roadmap and we will provide updates on our growth trajectory and progress as we implement our initiatives."
He thinks the revenue growth will come from product investments, such as software-defined storage, object storage, Disaster Recovery as a Service, and the security product and service investments.
Candidly we think, for what it's worth, this is pretty risky and Symantec would be far better off buying in new storage technology, much like EMC has recently done. But nothing like that is going to happen until a new CEO comes on board.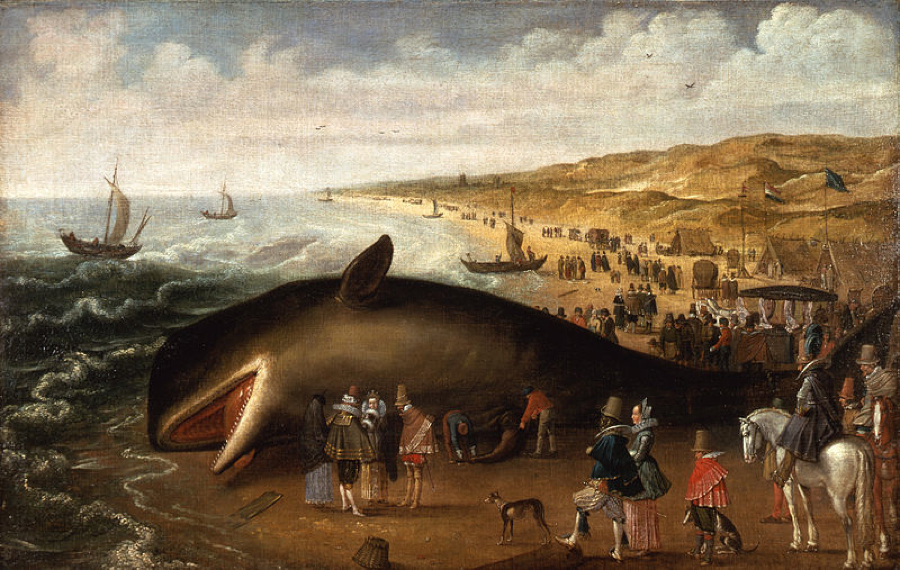 Forecasts for fiscal 2015 include revenues of between $6.63bn and $6.77bn. In the next quarter turnover is hoped to be between $1.65bn and $1.69bn. Essentially Symantec is looking for a new CEO with enough muscle to push its substantial body back into the waters so it can swim again. ®
Sponsored: Detecting cyber attacks as a small to medium business