Quantum dedupe sales droop: But you can't say it didn't TRY
DXi revs fell... but dedupe IS on the up, says firm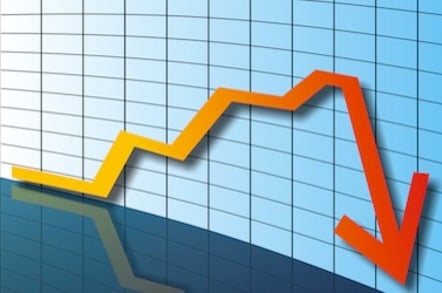 Quantum's latest results show that all the tape firm's sweat, gritted teeth and dogged determination hasn't come good - yet.
In the fourth fiscal 2014 quarter, ended 31 March, revenue was $128.0 million, down nine per cent year-on-year, primarily due to lower tape automation and DXi (deduplicating backup appliance) sales. There was a net loss for the quarter of $14.4m - there was a loss of $15.2m a year ago.
Some good news was that scale-out storage, meaning StorNext and Lattus, revenue grew nine per cent, driven by a nearly 50 per cent increase in North America sales.
The full year picture shows revenue was $553.2m, down six per cent year-on-year, due primarily, again, to lower tape automation and DXi sales. There was a loss of $21.5m, much better than the $52m loss in the previous year, and this was helped by a $15m licence fee paid by Microsoft in the first fiscal 20-14 quarter. Without that the loss would have been around $33.5m.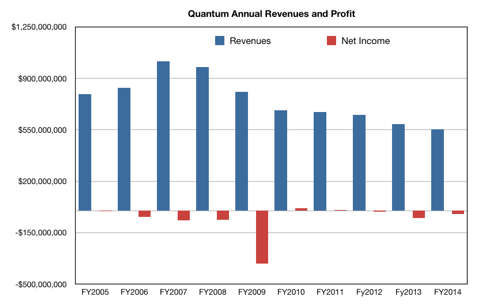 Click chart for a version that's easier on the eye to read
What did the CEO, Jon Gacek, have to say? "We're very pleased with our progress over the past year – financially, operationally and strategically. We reduced our cost structure and achieved our goal of significantly improving bottom line results and increasing cash flow."
Looking ahead he said: "In this new fiscal year, we will build on our progress through several strategic initiatives that leverage our technology, product and install base strengths and capitalise on the market trends in data protection and scale-out storage – with the goal of delivering profitable growth in our core business and increased shareholder value."
Profitable growth in our core business – not profits generally because, we suppose, the dratted tape business is still a big proportion of Quantum's business and it is steadily declining. In fiscal 2014 it was 65 per cent of Quantum's total business, too big to walk away from. The DXi products were 15 per cent of Quantum's revenue with StorNext and Lattus contributing 10 per cent.
In the earnings call Gacek said: "It's our goal to invest in technology and go-to-market resources where we can add unique value," and he wanted to "grow our overall tape market share."
The outlook for the next quarter is revenue of approximately $125m to $130m. At the mid-point, $127.5m, this is a 14 per cent drop from a year ago. The full fiscal 2015 year outlook is revenue of $540m to $550m, $545m at the mid-point and that would be just 1.5 per cent down on this year – the revenue rate of decline could be bottoming out.
All-in-all it's the same old, same old picture of tape-based sales falling and new product sales failing to grow fast enough to fill the gap and make Quantum profitable, despite the company cutting its costs by, for example, outsourcing manufacturing operations and reducing headcount from 1,700 to 1,300.
It is depressing that deduplication appliance sales are slipping. This is, or was, supposed to be a growth area. Why did they decline? WE never got told.
Gacek gave a picture of suppliers' market shares in the open systems target appliance market:
EMC - 75 per cent
HP - 9 per cent
Quantum - 4 per cent
Fujitsu - 3 per cent
IBM - 1 per cent
He said: "The open systems purpose-built backup market is projected to grow at an annual rate of 18 per cent to $5.3bn in 2017, and we will continue to enhance our DXi line." But... "our main challenge is that we compete with much larger companies that have significantly greater end-user access, including leading primary disk vendors."
StorNext and Lattus had 12 per cent revenue growth in the fiscal 2014 year: steady, unexceptional, even disappointing, with the EMEA region going the other way by being down 40 per cent. Add that to an overall DXi revenue decline and tape revenue fall and Quantum still looks poorly.
CFO Linda Breard said Quantum experienced "a year-over-year decline in tape automation and disk systems and related service revenue of approximately 20 per cent each.
What's Quantum going to do to get growing in 2015? Gacek mentioned 4 strategic initiatives:
We will drive the data centre products for profitability and growth. Scalar tape libraries and the DXi dedupe products are the best -- are best-in-class products. We are the market share leader in open system tape automation, and we have a very, very large installed base
Drive growth in our scale-out storage products with a focus on media and entertainment and federal government intelligence and surveillance verticals.
Adding new routes to market through both ecosystem and channel partners.
Continue to generate cash and opportunistically look to improve our balance sheet.
The tape decline in 2015 is expected to be matched by DXi growth, making for a flat result. StorNext, vPro and Lattus are expected overall to grow 50 per cent.
Gacek was questioned about DXi as he said the market for dedupe was growing yet DXi revenues were down.
Chad Bennett, an analyst at Carig-Hallum Capital Group, asked: "How does that math work, because if it [the market for dedupe] grew and your DXi business was down pretty decently, how does that math work?"
Gacek replied: "I'm looking at the math. Let me get back to you on that. I think what we're – the discussion we're having is around what's included but – and timing. I think it's a timing issue. We're March versus fiscal calendar."
Bennett came back at him on tape, questioning whether Quantum needed to be in every segment: "High-end tape, mid-range tape, entry tape, every quarter and the same thing on that DXi business, and also a little bit on the OEM and branded side across products and probably product range. … do we need to be in all these segments of the markets we're in?"
The CEO's answer was: "I think in some ways we have focused a lot more, but not so much around products but where we are selling." But that was not what Bennett meant which was about exiting unprofitable product sectors.
Gacek said Quantum had done what Bennet wanted:
And a lot of what we've done to make the company more profitable, even over the last seven years, is to do exactly what you asked about, which is get out of our businesses where we're not making money, and we think that's where we have done that in those products you mentioned.
But Quantum has not done what Bennett suggested, otherwise he would not have asked the question.
Quantum has a $100m cash hoard and Gacek talked about this: "It's the first time, in a long time, I've been able to discuss with the Board the possibility even of strategic acquisitions to further accelerate our growth and progress, particularly in the scale-out business. I don't really think we need anything right now. But as this business takes off, it's good to be in a position to start looking forward more."
You get the feeling that Quantum always grits its teeth and plays its business hand with dogged determination. Absent factors it can't control, like enterprise demand crashing or a federal government spending cutback, it should come good – though not spectacularly because that's not Quantum's style.
Hopefully, the tide turns and it starts gaining ground. Let's hope so and let's hope it starts this fiscal year. ®
Sponsored: Practical tips for Office 365 tenant-to-tenant migration