SEC to investors: When dealing in Bitcoin, don't get suckered
Top US securities regulator warns of scams, fraud, and other bad dealings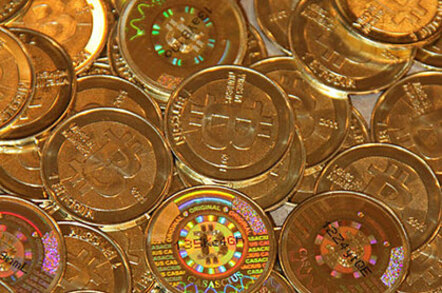 Investor.gov, the US Securities and Exchange Commission's investor education and advocacy website, has issued an alert warning investors of the potential pitfalls of investing in Bitcoin and other virtual currencies.
"A new product, technology, or innovation – such as Bitcoin – has the potential to give rise both to frauds and high-risk investment opportunities," the alert observes. "Potential investors can be easily enticed with the promise of high returns in a new investment space and also may be less skeptical when assessing something novel, new and cutting-edge."
This isn't the first time the SEC has wrung its hands over Bitcoin and other virtual currencies. Last year, it warned consumers against being tricked by crypto-currency fraudsters after charging a Texas man with running a multimillion-dollar Bitcoin Ponzi scheme.
This time around, the agency has a whole range of tips for investors, the gist of many of which is that just because you're dealing with Bitcoin instead of real-world cash, you shouldn't be a chump.
Don't believe promises of "guaranteed" returns, the SEC's note helpfully advises. Also, you should watch out for unlicensed sellers or securities, offers pitched via spam, offers that pressure you to buy right away, and anything that sounds too good to be true. All good advice for any investor.
But the agency has some Bitcoin-specific advice, too. On the issue of whether Bitcoin is really a currency, the SEC appears to side with the Internal Revenue Service, which has said that for tax purposes it will treat virtual currencies as property, rather than as money.
Also, the commission warns, because Bitcoin is not backed by any central authority or government and transactions in virtual currencies can be difficult for law enforcement to trace. If you do get cheated by Bitcoin scammers, you may have very little recourse to recover your funds, the SEC states.
The SEC's note goes as far as to name-drop collapsed Bitcoin exchange Mt. Gox, which went bankrupt after discovering someone had spirited away millions of dollars' worth of virtual currency from its coffers. And unlike money in banks, it observes, so far there is no insurance scheme for Bitcoin deposits.
And then there's what the SEC describes as Bitcoin's "history of volatility." The agency observes that the value of a single Bitcoin once dropped 50 per cent in a single day.
But perhaps the most telling section of the SEC's alert is the part where it discusses the role of government in virtual currencies. The lack of a central authority controlling Bitcoin won't stop governments from regulating it, the agency says. Because Bitcoin is not considered legal tender in any jurisdiction, governments could potentially pass laws making using it for trade illegal.
Food for thought for any Bitcoin investor. But if the SEC's advice has put you off, there are still plenty of other opportunities out there. Can we interest you in a nice bridge, perhaps? ®
Sponsored: Your Guide to Becoming Truly Data-Driven with Unrivalled Data Analytics Performance