Server SAN software upstart Maxta gets Intel's cash inside
Chipzilla's investment arm to ensure X86 lands on top of software defined heap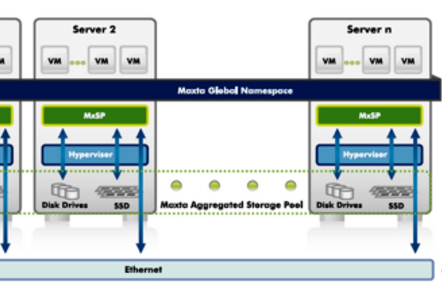 Analysis Server SAN software startup Maxta has gained $25m in a B-round of funding led by Intel's investment arm and Tenaya Capital just as the software-defined and converged storage trends are taking off.
The upstart swallowed $10m in an A-round in October last year.
With converged compute/storage hardware-software competitors Nutanix and Simplivity progressing well, with VMware having launched VSAN, and with EMC pushing its ScaleIO technology, Maxta's investors no doubt see this is no time to be taking their foot off the company development gas pedal.
The B-round was led by two new investors: Tenaya Capital and Intel Capital. Existing investor Andreessen Horowitz also participated. Maxta will use the cash for "product development and to expand its marketing, sales and support efforts".
The product is the Maxta Storage Platform (MxSP) and it turns standard X86 servers into converged compute and storage boxes, aggregating storage across a set of virtualised servers. It is hypervisor-agnostic, although VMware is the initial focus. Maxta says it's resilient and eliminates the need for traditional storage arrays. It also seems to be Tintri-like in that admins manage VM constructs and not storage abstractions.
Yoram Novick, Maxta's founder, president and CEO, said: "Maxta will use this opportunity to tap into Intel's significant engineering and marketing resources to provide superior VM-centric storage solutions."
Analysis
So Maxta will tweak its code to make better use of X86 hardware and Intel will provide marketing assistance to Maxta – perhaps something along the lines of an "Intel inside"-type campaign?
Why did Intel Capital get on board? Arvind Sodhani, its president and an exec at Intel Corp, said: "The investment in Maxta is a way to accelerate this [converged, software-defined storage] trend, while supporting Intel's innovation strategy, and it helps radically change the economics of storage for customers."
How does it support Intel's innovation strategy? Maxta has said "it will work with Intel on business development, marketing, and go-to-market opportunities as well as to optimise MxSP technology to deliver superior converged, software-defined storage for Intel-based platforms."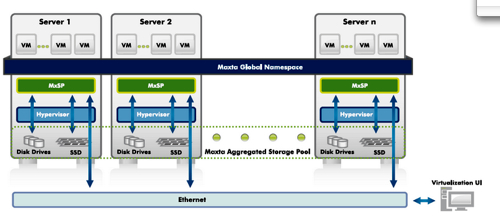 Maxta MxSP schematic
Yes, well, what other platforms might it optimise MxSP for? We can think of two: IBM POWER and ARM, and can immediately see why Intel would not want either of those CPU architectures to make progress in the server side of data centres, or the storage array side either.
The more software-defined products are spun up for Intel hardware, the fewer data centre virtualised server buyers will be lured by the siren calls of ARM and POWER.
And what about Intel hardware-using Nutanix and Simplivity and other Intel-loving server SAN software suppliers? Intel is probably aware of such a possibility and won't want them to go waltzing off on the data centre dance floor arm-in-arm with ... ARM or, indeed, with POWER. ®