Chucking cash at sport and broadband starts to pay off for BT
Wholesale, Openreach, biz and global services still flagging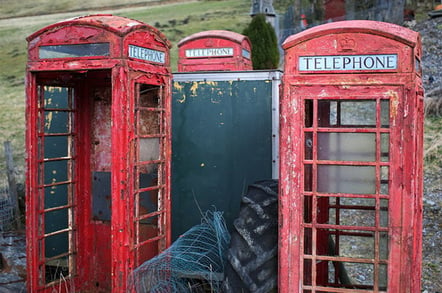 BT shares climbed three per cent this morning off the back of decent end-of-year results from the one-time national telco, which saw its sales growth outshine market predictions.
But, despite being buoyed by its unexpected achievement of flat revenues of £18.3bn as well as a six per cent rise in adjusted pre-tax profit of £2.8bn for the year ended 31 March, some of BT's divisions continued to witness sagging sales.
The former state monopoly's wholesale wing recorded the biggest revenue drop, falling 7 per cent to £2.4bn from £2.6bn a year earlier. It blamed regulatory meddling from Ofcom relating to the migration of services off a previously terminated contract.
Openreach, meanwhile, reported flat sales down 1 per cent to £5bn for the full year. Once again, BT pointed the finger at the UK's communications watchdog by saying that price changes had a "negative impact of around £260m" in the past 12 months.
But the company added that growth in its fibre broadband sales, particularly in its final quarter, had helped offset Ofcom's interference.
BT told the City that it had now deployed its fibre to over 19 million premises, most of which are being served the technology via a street-side cabinet that then connects the property to the internet over the firm's existing copper wiring.
As the only supplier in the race for taxpayer-funded subsidies, BT has now won 44 Broadband Delivery UK rollout contracts. It said that Openreach had reached more than 630,000 premises, predominantly with its Fibre-to-the-cabinet tech to date.
During the fourth quarter, BT said Openreach added 217,000 DSL and fibre connections to its broadband service, a decline of 24 per cent compared with the same period a year earlier. It blamed repair work due to the floods in the country at the start of 2014 for shifting engineers' focus away from new installs.
In July 2013 BT's new boss Gavin Patterson split the telecom giant's retail division into two distinct wings: consumer and business. Previously, its retail division had suffered somewhat because biz numbers were included in its quarterly reports.
Now that Patterson has sliced those units into separate entities, its newly created consumer wing is on the up with revenue for the year climbing 4 per cent to £3.8bn. Its biz unit, on the other hand, reported flat sales of £3.5bn for the 12 months ended 31 March.
BT's boss said:
Our rollout is ahead of schedule with our fibre network passing more than 19 million premises, around two thirds of the UK. But we are not stopping there. All of our BDUK projects are underway and will help take the coverage of all fibre networks to at least 90 per cent of the UK, bringing significant benefits to communities across the nation.

BT Sport has proved very popular and we are delighted the service is now in around five million homes. For BT Consumer it underpinned a record 9 per cent growth in revenue in the fourth quarter and the lowest line losses in over five years. We achieved an excellent 79 per cent share of broadband market net additions in the quarter.
BT's total retail broadband base is now just shy of 7.3 million Brits, the company said. ®