Star Wars Episode VII: The Ancient Fear of, er, a cheese-tastic title?
Rumour mill suggests franchise will stick to vague, corny names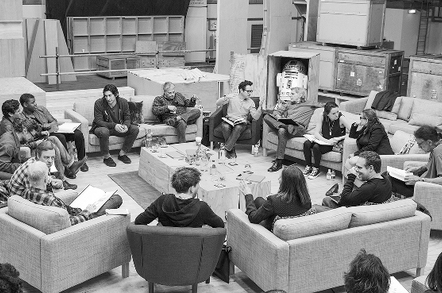 The seventh instalment of the Star Wars movie franchise will be named "The Ancient Fear", whisper anonymous sources, while more rumours gather over the final cast list for JJ Abrams' latest feature.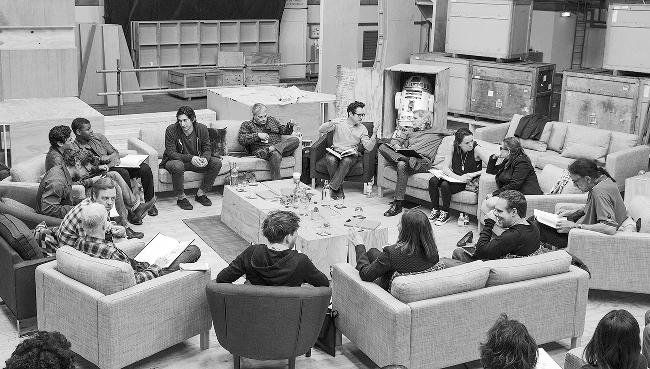 Writer, director and producer JJ Abrams (top centre right) at the cast read-through of Star Wars Episode VII at Pinewood Studios with (clockwise from right) Harrison Ford, Daisy Ridley, Carrie Fisher, Peter Mayhew, Producer Bryan Burk, Lucasfilm president and producer Kathleen Kennedy, Domhnall Gleeson, Anthony Daniels, Mark Hamill, Andy Serkis, Oscar Isaac, John Boyega, Adam Driver and writer Lawrence Kasdan. Credit: David James
Ain't It Cool News is reporting that it has two separate sources that put the title (or possibly the working title) of the film as "The Ancient Fear". Apparently, the title "refers to [actor] Max von Sydow's villain, who makes Pazuzu look like a pussy!" one of the sources said.
The title would certainly suit the traditionally cheesy subtitles on Star Wars movies (A New Hope, anyone?) and be suitably vague on details to keep the plot under wraps.
Von Sydow was one of a list of cast members revealed late last month, when original stars Harrison Ford, Carrie Fisher and Mark Hamill were confirmed, along with Peter Mayhew as Chewbacca, Anthony Daniels as C-3PO and Kenny Baker as R2-D2.
Newcomers to the franchise include relatively unknown British actress Daisy Ridley and the previously rumoured Adam Driver from Girls, along with Attack the Block star John Boyega and Harry Potter alumni Domhnall Gleeson. More seasoned actors were also announced in the shape of Oscar Isaac, most well-known for recent movie Inside Llewyn Davis, performance capture expert Andy Serkis, and Von Sydow.
Driver was previously rumoured to be taking a villainous role in the film as the Darth Maul/Darth Vader type character, leaving the Emperor Palpatine role as a potentially nefarious slot into which Von Sydow would slip.
Movie director JJ Abrams said at the time that it was both "thrilling and surreal" to see the old and new characters come together.
"We start shooting in a couple of weeks and everyone is doing their best to make the fans proud," he added.
Despite the official word of quite a long cast list, rumours persist that not everyone from the latest film has been outed. While it's plausible that relative unknown Ridley was plucked out from open auditions, there may well be other totally new faces in the mix from the battery of casting calls held in the UK.
Also refusing to die are the whispers that Lupita Nyong'o of 12 Years a Slave fame and teen heartthrob Zac Efron have been cast in major roles. Efron, a Disney kid who's starting to get major film roles, confirmed that he was in talks for Star Wars last year and multiple sources said that recent Oscar-winner Nyong'o had chatted to Abrams about Star Wars. ®