Disappearing storage and server projects hit Arrow ECS
Distie titan grew in Q1, but only 'cos of acquisitions and software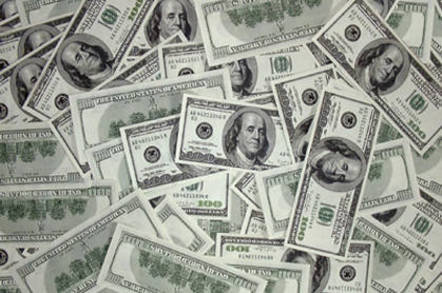 If ever proof were required that tanker sized distributors needs to keep acquiring to maintain growth levels then Arrow Inc's fiscal Q1 numbers provided the perfect test case.
The Fortune 500 firm reported a five per cent rally in sales to $5.08bn but exclude the firms it hoovered up last fiscal year, including security distie Computerlinks, and organic growth declined one per cent.
The Global Components (GC) arm grew seven per cent to $3.42bn in the period ended 31 March but guess what, extract sales contributions from acquisitions and the top line expanded four per cent.
"The overall market [for GC] remains stable, and lead times and cancellation rates are within normal ranges," said CEO Michael Long in a conference call with analysts.
The picture was slightly worse for the Enterprise Computing Solutions wing: sales came in flat on a year ago at $1.66bn but as adjusted for acquisitions and in constant currency, they dropped eleven per cent.
Sales declined ten per cent in the Americas, below traditional seasonality while sales in Europe bounced 15 per cent primarily due to the acquisition of security distie Computerlinks.
"The demand environment in our Global Components business matched our expectations as we entered 2014, while the environment for our ECS business was somewhat mixed," said Long.
He said "demand" for ECS "softened" as it exited the quarter, "specifically in North America", a point noted recently by arch-rival Avnet.
"We experienced a pause in our hardware business, but our software and security-related businesses were on plan and delivered growth".
A pick-up in April was noted by Arrow fuelled by a pick up in the storage business and proprietary servers which were the weak points in Q1.
Long said ECS was impacted by an "exceptionally strong fourth quarter" and an "anticipation of some product refreshes a little later in 2014". The CEO sees these dynamics as being "transitory rather than permanent".
Gross margin was up 60 basis points to 13.8 per cent due to improvements across all three regions that ECS operates in and higher software sales within ECS.
Group operating income grew to $177.7m from $137.5m: ECS operating profit was $64.18m from $61.6m; operating profit for Global Components was $161.1m from $128.3m; and corporate costs were $47.56m
Net profit jumped more than 37 per cent to $107m helped in part by a $10m drop in restructuring costs, following the whopping overhead slashfest in the previous fiscal year.