Hack-smacked Alphadex bought by iRack Ltd ... or is that Networks Ltd?
Brit colo firm bailed out by new firm with connections to old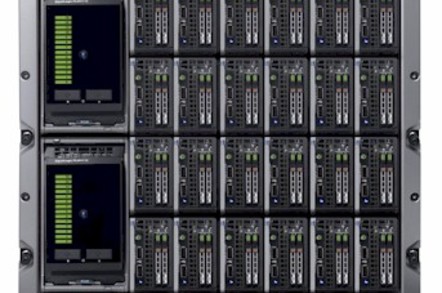 Exclusive Brit data hosting biz Alphadex has been rescued from administration and bought up by a new firm, though there seems to be some confusion over just which firm is its white knight.
Alphadex, which went into administration after British Gas issued a winding up petition for unpaid bills last month, said in an announcement on its website on 24 April that it had been acquired – by iRack Networks Ltd.
But according to sources and documents seen by The Reg, administrator Cowgill Holloway told creditors and customers that the company had been bought by iRack Ltd, not iRack Networks Ltd.
After Alphadex was alerted to the discrepancy by The Reg, the announcement on its website changed to read iRack Ltd, and the company number has also been removed. However, you can see the original statement in a screen grab below.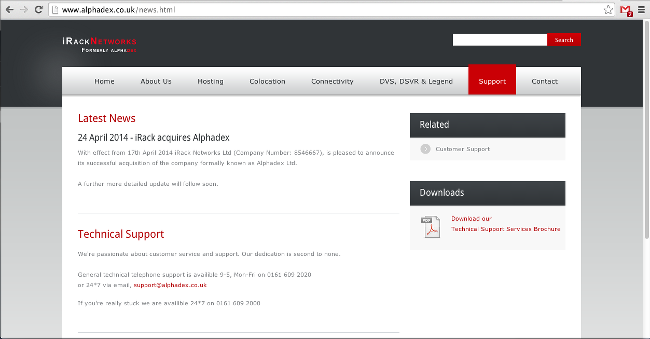 Click to embiggen
According to Companies House filings, Alphadex's original director was Jabir Abadi and the firm was incorporated at an address in Preston in Lancashire, UK. Abadi stopped being director of the firm in October 2012 and the company's address was changed to one in Manchester's Media City in February 2013. The address was changed back to the one in Preston in April this year, on the same day the acquisition was announced.
Up until the end of last week, iRack Networks Ltd was directed by both Jabir Abadi and Dale Eric John O'Brien, and was incorporated at the Preston address. Following inquiries by The Reg last week, these details have changed. Abadi has left his directorship at the company and the registered office has been changed from the Preston address to an address on Victoria Street in Manchester.
Meanwhile, iRack Ltd, the new owner of Alphadex according to the updated statement and the administrator, is registered at the same Victoria Street address and is directed by the same Dale Eric John O'Brien.
A third company, Blue Capital, was the qualifying floating charge holder for Alphadex – in other words, the creditor that holds the security on more intangible elements of the business such as debts, stocks and small pieces of furniture (anything that cannot be a fixed charge).
The qualifying floating charge holder can appoint administrators for a firm in trouble; thus Blue Capital put Cowgill Holloway on the case for Alphadex. According to Companies House, Blue Capital is also incorporated at the Preston address and its director is Jabir Abadi.
In a press release, administrator Cowgill Holloway said that Alphadex had run into cash flow problems after losing contracts following cyber attacks in late 2013 and earlier this year, as well as reaching the end of a major client's contract in February last year. Cowgill said that new owner iRack was intending to "invest heavily" in updating software, hardware, network and infrastructure at the colocation firm to ensure it could withstand a hack in the future.
Sponsored: Minds Mastering Machines - Call for papers now open