El Reg Quid-A-Day Nosh Posse back on the bacon
Good wedge of cash raised for charity, beers all round – and you can still chip in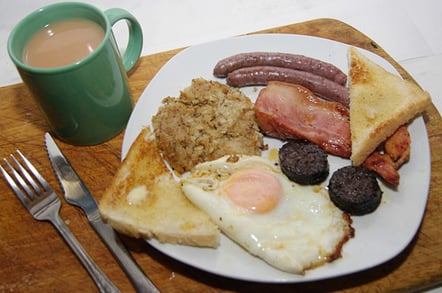 Pics We're pleased to report that the El Reg Quid-A-Day Nosh Posse has emerged in fairly good shape from last week's Live Below the Line challenge, although team member Toby Sibley hasn't told us whether he walked up the aisle on Saturday or had to be carried by his best man.
Toby certainly deserves an extra round of applause for taking on the food budget challenge just days before his wedding, and for subsisting on 780 Calories a day.
One of his tempting meals included "lentil and carrot surprise", without the surprise, and it was certainly no surprise that by Thursday he was "a bit weak and lacking focus".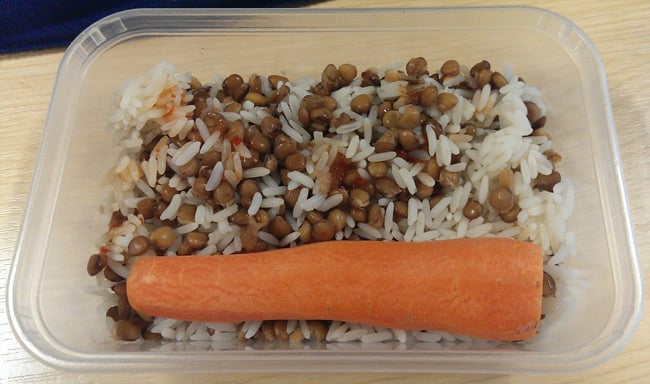 Lentil and carrot surprise
Neil Barnes and missus Anita fared somewhat better, knocking up a selection of dishes during the week including the exotic-sounding feijão com arroz...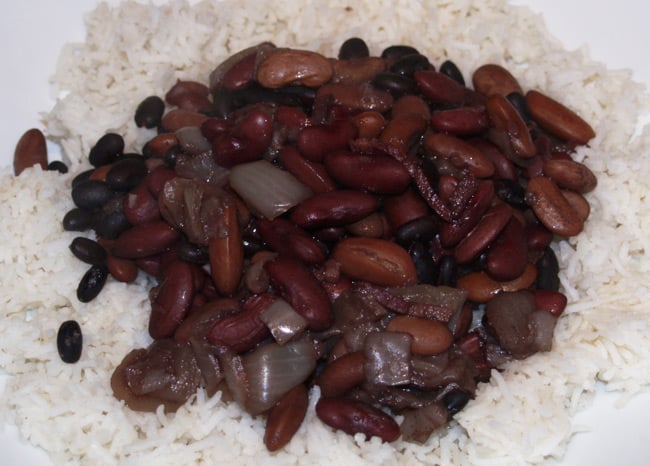 Feijão com arroz, aka beans and rice
...and a final pudding with rhubarb from the garden: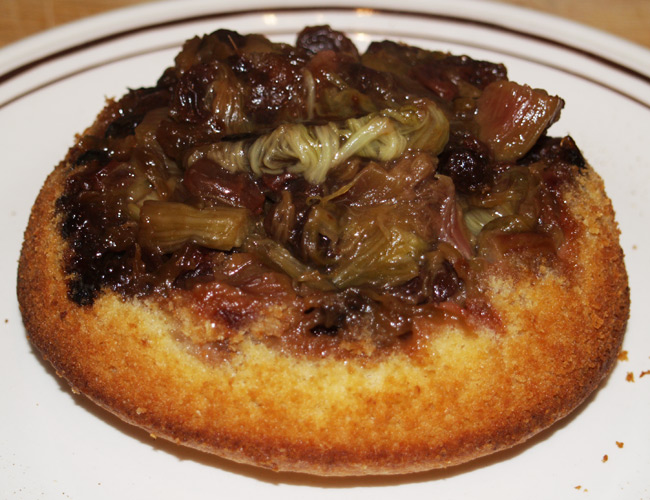 Rhubarb pudding à la Barnes
Neil and Anita's total spend for the five days was £9.25, with the balance going on a few herbs and spices. Neil said: "I cheerfully admit that I only managed the variety that I did because I priced per gram rather than spending the tenner in one hit. That said, I didn't buy huge packs of anything, just reasonably sized packs as one might find in a supermarket."
My strategy was to blow my entire €6 (£5, more or less) on chick peas, rice, eggs, bread, milk and some teabags, the idea being I'd survive on sheer quantity.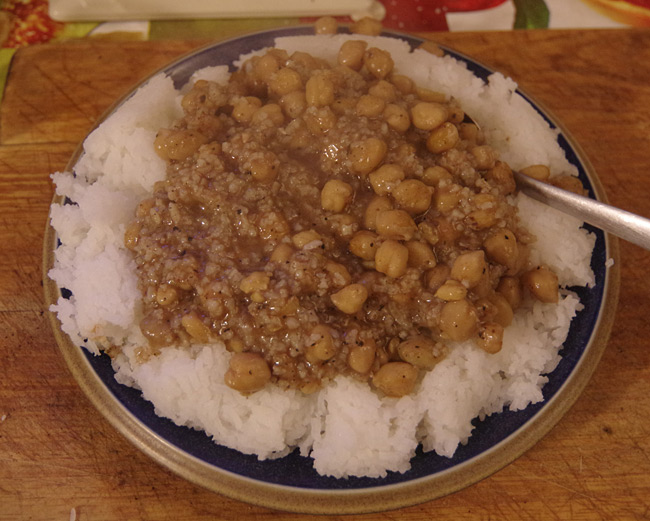 My plate runneth over - with rice
It worked, too, because I was never really hungry and as of Friday night had 400g of dried long-grain rice left, plus half a litre of milk. A couple of foraged mushrooms helped spice up what was an extremely monotonous diet, and certainly not recommended for long-term survival. Suffice it to say, I won't be eating either rice or chick peas in the near future.*
Chris Winpenny, meanwhile, adopted a line of attack similar to Neil's, and stockpiled a variety of foodstuffs, which allowed him to enjoy bananas, porridge, carrot and spud concoctions, spaghetti, and huevos a la cubana: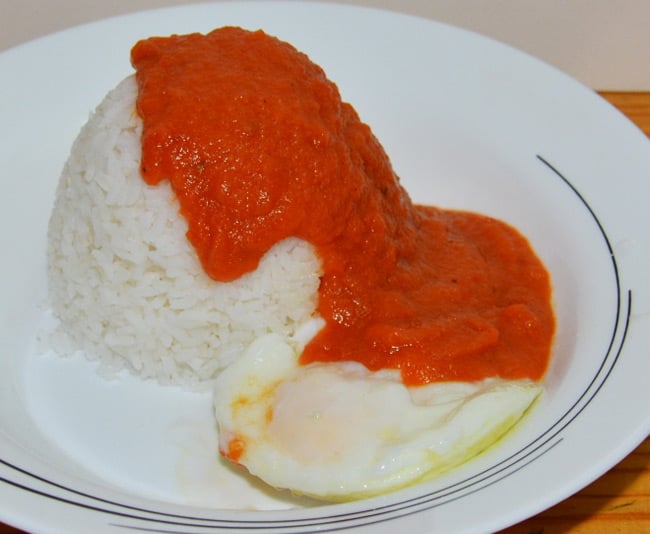 Huevos a la cubana
Naturally, as the challenge progressed, we discussed just what was going to happen on the culinary front come Saturday when the quid-a-day challenge was over. Chris put aside a few bananas from his stash to prepare some big muffins, while I was looking forward to a coffee and a bacon sarnie.
When the moment arrived, Neil and Anita went at it with gusto. He noted: "One of these is Anita's, one is mine..."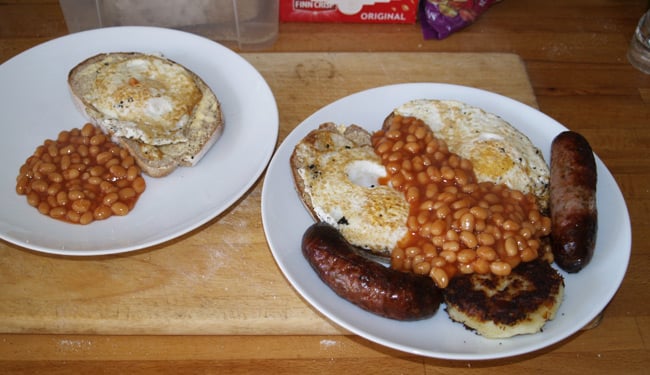 Which one of these is Neil's? Hmmmm...
Toby kindly forwarded his wedding lunch menu last Wednesday, at a time when it certainly made for drool-inducing reading:
Gamberi picante – Pan-fried tiger prawns with butter, garlic and white wine sauce
Fillet steak al funghi bosco – Fillet steak with a rich mixed wild mushroom and dolce latté sauce
Tiramisu
Cake
Toby reported this morning that the slap-up meal was "excellent and the protein and calorie boost was greatly appreciated by my stomach"...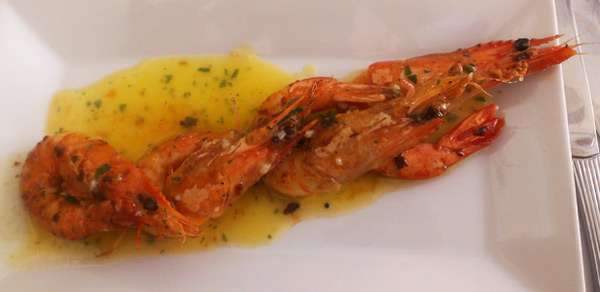 Greatly-appreciated recovery prawns
It's fair to say that five days of moderate deprivation is far easier to support when you've got some proper nosh at the end of it, and we don't pretend that our experience is in any way comparable with having to live permanently in poverty.
However, the principal aim of Live Below the Line is to "deepen understanding of the challenges faced by individuals living in extreme poverty, and to raise vital funds for crucial anti-poverty initiatives".
Our efforts were in support of Malaria No More UK – the battle against this obnoxious disease being a personal matter in my case – and we thank all those readers who helped us raise a healthy total to help "protect and save lives from malaria in Africa where 90 per cent of all deaths occur".
Of course, anyone else who feels like applauding the posse can still make a donation right here, and it will be gratefully received. ®
Bootnote
* I nipped out for a swift beer on Saturday lunchtime, to find my local bar-owning mate had just knocked up a magnificent chicken paella. When he offered me a steaming platter, I groaned: "No offence, but is it OK if I just have the chicken without the paella?"
Sponsored: Detecting cyber attacks as a small to medium business