Nokia: What to do with our euro BEELLIONS... Eh, let's spaff some on connected cars
Finns change their minds - to the tune of $100m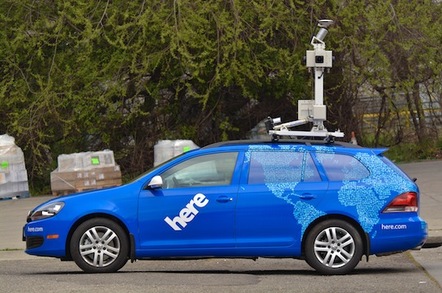 Nokia has just announced that one of the things it is going to do with its newly acquired money mountain is to invest $100m of it (€71.7m, £58.9m) in connected cars.
This is a bit of a change of heart for the Finnish firm, which six years ago sold its automotive business to the German VC Novero.
But these are different times and Nokia has been doing some interesting things with its HERE mapping software, which includes the satnav division DRIVE.
The bit of Nokia which is piling in the cash is Nokia Growth Partners, but while the VC part of some companies often has little contact with the rest of the business, NGP is looking for businesses which offer "promising auto tech and local services companies in collaboration with HERE, a Nokia company, to grow the ecosystem around HERE's mapping and location products and services."
After divesting itself of its handset division, which it sold off to Microsoft last year, Nokia has three businesses: intellectual property, mapping and networks & infrastructure. The $700m growth fund looks to work across all of them.
The company quotes Paul Asel, Partner at Nokia Growth Partners: "For the last few years there has been a surge in innovation that has brought technological advances leading to safer, cleaner, increasingly connected, intelligent and more affordable vehicles.
"Vehicles are becoming a new platform for technology adoption very similar to phones or tablets."
Historically Nokia has been pretty acquisitive around mapping, notably with the $8.1bn purchase of Navteq in 2007, but it also dropped an undisclosed amount of cash on 3D mapper EarthMine; slurped route-planning software house Gate5 for a rumoured $250m ; and bought location-based social networking bod Plazes and location services firm MetaCarta in 2008 and 2010 respectively, both for undisclosed sums.
We know who you are, we know where you drive...
"NGP's Connected Car fund underscores that connectivity is rapidly reshaping what is possible in the car environment," said Michael Halbherr, CEO of HERE. "We believe that connected cars equipped with precise location-awareness and sensor data can become powerful devices capable of helping drivers make sense of the world around them.
"With more than 25 years of experience in creating automotive grade maps for the automobile industry, we look forward to working with promising companies in NGP's new fund to create a whole new class of services that keep drivers safe and connected."
Areas where the growth fund is particularly looking to invest are smart travel, consumer services, systems and enablers.
Under the smart travel banner, it looks to car sharing, ride sharing, taxi booking, routing and ticketing. The consumer services include insurance, entertainment, local real-time services, driver assistance, points of interest and coupons, The systems branch of the investment is looking to fund innovations in the areas of intelligent driving, driver assistance, sensors, UI, telematics, security safety and communications while the targeted services and enablers are connectivity, fleet management, analytics, advertising, mapping, payments and asset tracking.
The fund is typically looking at investing sums of between $5m and $15m into companies which have shipping products and revenues of a few million dollars.
One area where the mobile industry often has issues is that its technology goes from cool to stale in 18 months. A car takes twice that time to get from concept to ship and then spends between five and 10 years being sold. The 17-inch touchscreen in the electric five-door liftback Tesla model S might be the height of technology today, but before the model is replaced, it is going to look distinctly eight-track.
Longer-term issues of supporting the old technology in the field will also be huge. Getting a new camshaft for a 1935 Lanchester Light Six isn't as taxing as finding a Motorola MicroTac to go with your 1989 Ford Scorpio. ®