EMC aims Elastic Cloud Storage band at Amazon, Google
Twang-ang-ang-ang... OUCH! You software-defined @£$%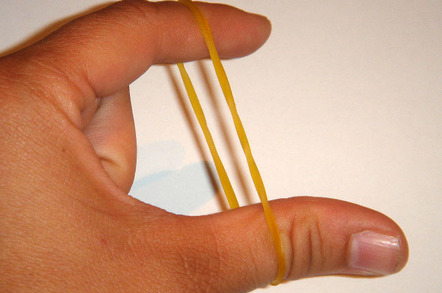 EMC World EMC is in Vegas to gamble, and had all of its software-defined storage bets on show at its EMC World storagefest – everything from Project Nile and ViPR 2.0 to its massively scale-out ScaleIO server SAN.
First up is its Amazon-attacking Project Nile, embodied as an Elastic Cloud Storage (ECS) appliance. It was previewed in September last year and the ECS name seems to be a reference to Amazon's EC2 Elastic Compute Cloud.
The ECS appliance is designed to offer public cloud storage economies for private and hybrid cloud deployments, but private cloud security and control. It can also be used by cloud service providers themselves.
The turnkey appliance uses commodity hardware (x86 servers + storage) with exabyte-class scale-out clustering. The product has a multi-site, active-active architecture with a single global namespace. A geographically distributed environment can be managed as a single logical resource with metadata-driven policies to distribute and protect content. It has multi-tenancy support, detailed metering, billing integration and a self-service portal.
Amitabh Srivastava, who runs EMC's Advanced Systems Division, says customers will get the simplicity and efficiency and scale of public cloud storage at a lower $/GB cost – between 9 - 28 per cent lower TCO in object storage implementations than public cloud alternatives from Amazon and Google.
According to EMC, its cost comparison reflected:
the ECS Appliance delivered nine per cent and 18 per cent lower total cost of ownership (TCO) in mainstream-sized (1.4PB raw/740TB utilised) customer implementations than Google and Amazon respectively,
23 per cent and 28 per cent lower TCO in large-scale (11.5 PB raw/5.7 PB utilised) customer implementations than Google and Amazon respectively.
The appliance uses a new release of EMC's ViPR storage control and data plane services software product, ViPR 2.0, and ScaleIO, the server SAN offering. ViPR offers elastic block (ScaleIO), object and HDFS storage data services.
Some details are on a datasheet/brochure (PDF) but more can be found in a hardware specsheet (PDF)
EMC's ECS appliance's fancy front
Phoenix X86 servers
Up to 60 disk drives of JBOD direct-attach storage in a 4U enclosure.
High density disk enclosure holding up to 480 x 6TB 7200rpm disks per rack
10GbitE connectivity inside rack and up to 80Gbit/s 10GbitE links to customer network via 2 integrated top-of-rack switches
4- and 8-node configs
2U 4-node server enclosure
SAS cable connection between servers and disk enclosures
HA power
EMC says that there is up to 2,880TB of unstructured storage per rack or, for a mixed workload, "up to 1,440TB per rack unstructured plus 120TB structured storage."
There are five ECS model with U prefixes for unstructured and M prefixes for mixed workloads:
An ECS-U300 appliance has four nodes, meaning four servers and four disk enclosures with 360TB capacity (60 x 6TB 7200rpm drives) and a 1:15 disk ratio (one server per 15 disks).
The ECS-U1500 model has the same four-node configuration but 1,440TB of capacity (240 x 6TB 7200rpm drives) and a 1:60 disk ratio.
The ECS-U3000 model is an eight-node system with 2,880TB (480 x 6TB 7200rpm drives) and a 1:60 disk ratio.
ECS-M500 8-node system with 120TB of structured storage (120 x 1TB 7200rpm drives) and 360TB of unstructured storage (60 x 6TB 7200rpm drives).
ECS M1600 is a bigger eight-node system with 120TB of structured storage (120 x 1TB 7200rpm drives) and 1,440TB of unstructured storage (240 x 6TB drives.)
You would need 347 x ECS-U3000 racks to reach 1 exabyte of capacity.
There can be public cloud support for ECS via future plug-ins.
These are not natively high-performance systems, as the disk drives are slow, at 7200rpm, and there is no mention of any flash caches in the servers.
However Boaz Palgi, the Advanced Software Division's VP and general manager, says: "ScaleIO's parallel architecture aggregates both capacity and performance. For example, at EMC World we are demonstrating 48 server nodes delivering over 10 million IOPs using only commodity hardware."
We don't know exactly what kind of IOPS these are. ScaleIO can use any media – including SATA, SAS, SSD and PCIe flash – so we might expect much faster all-flash or flash-enhanced ECS configurations in future. These would likely not be cheaper than public cloud disk storage.
What the performance is like in a geo-distributed set-up is another matter.
ScaleIO is pretty dynamic and resilient: you can "add, move and even remove both nodes and capacity on-the-fly, during IO operations."
The ECS appliances look to be credibly cheaper-than-cloud - when we get pricing - and highly scalable systems. As block storage they stand alongside EMC's Isilon scale-out filers and also VNX/VMAX block storage. We expect they will cost less per-terabyte than Isilon, VNX and VMAX systems.
VMware has its VSAN, aggregating storage across VM-running VMware servers. ECS appliances provide a SAN made up of virtual SANs courtesy of ScaleIO and the appliances do not run VMs – there is no compute and storage convergence with ECS.
ECS appliances are available for file storage (with ViPR 2.0) or for object storage.
The availability of the ECS appliances is not known and nor is there pricing. We understand they will be sold on a licence and maintenance basis.® ®