Did cosmic radiation nuke $25 satellite swarm? 100 snoozing Sprites face fiery death
Crowd-funded birds stuck in mothership 'KickSat'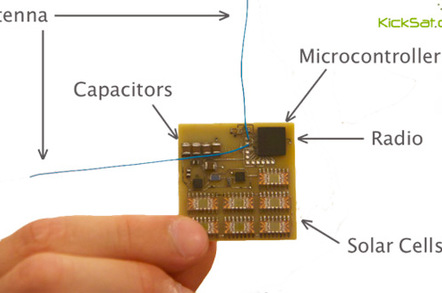 Bad news for lovers of amateur space exploration: a crowd-funded project that managed to send aloft 100 tiny satellites around Earth looks set to fail.
The project in question is the KickSat, which kicked off in 2011 with the promise to create 100 satellites, each about the size of a pair of postage stamps and dubbed 'Sprites', and to launch them from a mothership dubbed "KickSat".
The project more-than-doubled its US$30,000 Kickstarter target as investors enthused about the chance to own 1/100th of each Sprite and the bonus of having their name written on the mothership.
Each Sprite was designed to send a short signal back to Earth to prove the concept and give funders a thrill. That may not sound like much, but with sponsorship costs starting at just US$25 it's not half bad!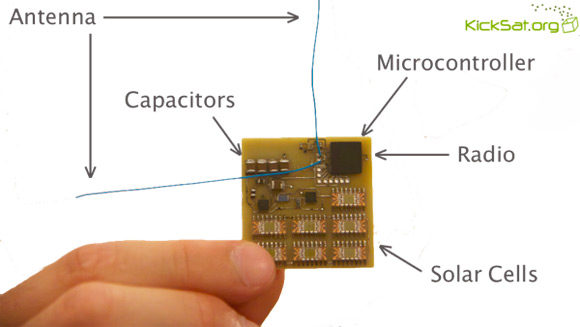 A prototype 'Sprite' satellite
The project has had, pardon the pun, its ups and downs as it tried to get onto the launchpad. But to cut a long story short, the 100 Sprites and the KickSat made it aloft aboard the SpaceX Falcon 9 that launched on April 18. The KickSat was successfully launched not long afterwards.
The mission plan then called for a 16-day wait before KickStat opened its doors and ejected the Sprites into space. That event was due to take place on May 4th, but sadly something went wrong on the mothership.
Cornell student Zac Manchester, the prime mover behind the project, writes that "the packets we've been receiving [from KickSat] have changed in the last couple of days". And not in a good way: Manchester reports "a hard reset of the 'watchdog' microcontroller on KickSat" restarted the countdown on April 30th. That's bad news because by May 16th it is expected that KickSat will re-enter the atmosphere, with dire consequences, and before the Sprites can be released.
Manchester says "the likely culprit was radiation" rather than a buggy system.
Worse still, KickSat can't currently receive signals from Earth because its battery does not possess sufficient charge, so the team can't override the countdown timer.
Manchester feels "there is still some hope that the batteries may recharge sufficiently to command the satellite" and also says "There is also a small chance that KickSat could remain in orbit until the 16th, at which point the timer would set off the deployment as originally planned."
His overall assessment, however, is that "the situation looks a little bleak".
Which is sad: this looks a grand project. Here's hoping something better than a fiery death awaits KicSat and the 100 Sprites. ®