Truck-sized asteroid slips silently between Moon and Earth
Zips past the planet less than one light second distant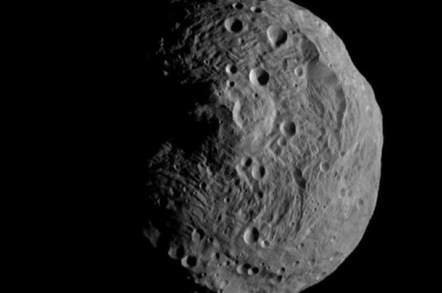 In the early hours of Saturday morning an asteroid whizzed past Earth at what in astronomical terms a very close shave, skimming just 186,000 miles over our planet's surface.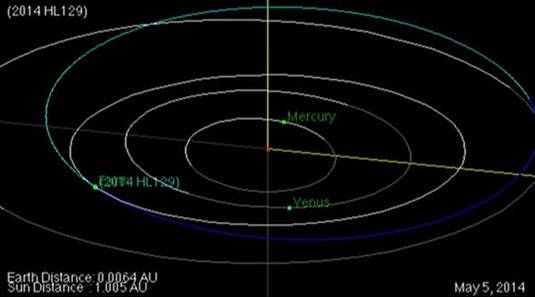 Asteroid 2014 HL129 squeaks past
The asteroid, dubbed 2014 HL129, a 4-to-15 meter-wide chunk of space debris, flashed past Earth at 4:13am EDT (0813am GMT) within the Moon's orbital track at an El Reg distance scale of 2,164,692 brontosaurus lengths.
As asteroids go, this one wasn't large enough to cause serious harm, just the equivalent of around a 10 kiloton nuclear device if it had fallen on the planet's surface. But what's worrying is how late scientists spotted it.
The inter-planetary body was discovered less than a week ago by astronomers at the Mt. Lemmon Survey team based at Arizona's Steward Observatory. Had the Earth been in the way of its orbital path, there would have been little that could have been done other than stockpiling body bags near the predicted impact point.
Based on currently available technology, there's not much mankind could do to divert a large asteroid, despite what Hollywood may tell you. There are some theories of how it could be done, ranging from explosives or laser heating to knock one off course, landing a rocket on the body to push it out of the way, or even paintballing it to let the Sun do the hard work.
But the weekend's flyby shows us how little we know about the amount of junk there is floating around us – and sometimes making contact. A study last month showed that the Earth gets rocked by explosions the size of a small nuke around every six months, and sooner or later Mother Nature's going to hit us with a much bigger one. ®
Sponsored: Detecting cyber attacks as a small to medium business