Amazon, Twitter, launch #AmazonCart tweet-to-shop service
#impulsebuying #buyersremorse #mycreditcardismaxedout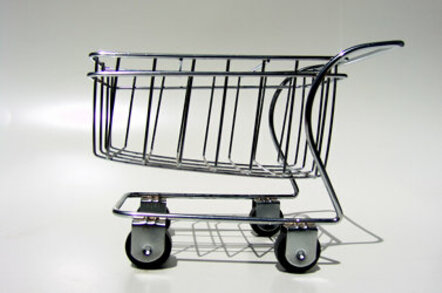 Amazon.com and Twitter have teamed up to allow shopping by tweet.
The system works like this: if a tweet includes a link to a product you fancy at Jeff's B's Big Web Bazaar, simply reply to that tweet and add the hashtag "#AmazonCart". Jeff B's cunning software will then put the item into your Amazon.com cart. You'll need to visit Amazon.com and pay for the item – this is not buy-by-tweet.
To make this all happen, you'll need to allow Amazon.com to access your Twitter account, a trick made possible thanks to some OAuth background action. Jeff's B's Big Web Bazaar makes it plain it is possible to unhook the two services.
There's no word on whether this is intended to work worldwide, but your correspondent gave #AmazonCart a whirl. My account uses an Australian credit card, but I pay in US dollars. The service signed me up without a thought, but the item I chose – a new volume in The Foreworld Saga – was not possible to sell using AmazonCart.
At least the service seems to do a good job of customer service over Twitter, as the auto-generated Tweet below demonstrates.
@ssharwood #AmazonCart doesn't support this item, but sent you a #free sample. You can buy: http://t.co/GNKREEXWkO Also sent an email...

— MyAmazon (@MyAmazon) May 5, 2014
Similar Tweets are generated regardless of the outcome of the transaction: win, lose or draw, Twitter is pressed into service to inform you of the outcome.
Why does this service exist? Amazon has long offered affiliate schemes that throw a few coin into the pocket of those who bring it business. Twitter's recent results suggest it could use another revenue stream or two.
You can sign up for AmazonCart here. ®