Creating your golden statue of Nicolas Cage finally possible
3D printing bods to bring family jewels to the masses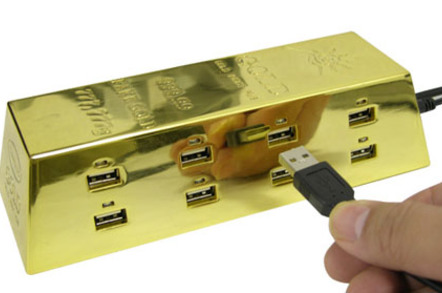 Lack the physical dexterity, design skills, workshop and talent necessary to make your own golden jewelry? None of that will stop you now!
It's all thanks to a company which offers 3D-printing-as-a-service, Shapeways. The trinkets you design are not printed directly in gold, the process uses the traditional lost-wax casting processing technique.
Your designs are printed in wax which is then coated in liquid plaster. When this has set molten gold is poured in, melting and displacing the wax. After the gold has set, the plaster is broken off and the gold cleaned and polished. The delivery time is nine days.
This is akin to a process I used to make chocolate people, and has been used for centuries for bronze casting.
There are some physical limits imposed by the technology – they are described in detail here – but in essence, detail is good to better than the nearest millimetre and there is an accuracy of 0.125mm.
All parts must be connected so you can't do gold chains. The minimum size is 2.4×2.4 ×0.6mm and the maximum is 89 × 89 × 100mm, but that would cost nearly half a million dollars, so physical size isn't the limitation here.
It's expensive, but given the work involved not outrageously so at $600 per cubic centimetre of 14ct gold. The equates to $1,700 per ounce of 24ct gold which at the time of writing trades at $1,300 an ounce. Given that the trade market for jewellery is usually 100 per cent there is a margin here for the manufacturing jewellers, who are but a precious stone's throw away from Vulture Central in Hatton Garden.
All the prices here are in US dollars because they are made in Queens, New York. Shapeways isn't currently offering the service outside the United States but hopes to do so after an initial two-month trial. ®