El Reg Quid-A-Day Nosh Posse crawls towards finish line
'Feel a bit weak', admits 780-Calories-per-day Toby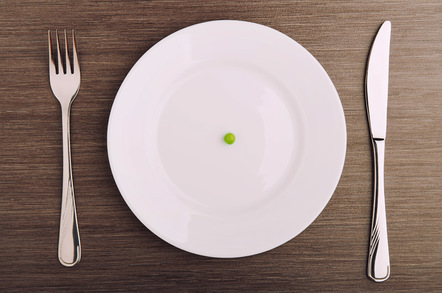 The El Reg Quid-A-Day Nosh Posse has entered the final furlong, with less than 24 hours to go before members can enjoy something considerably more substantial than the meagre rations which have sustained them since Monday.
And as the finish line comes into view, the effects of the Live Below the Line challenge - to exist on just £5's worth of food for five days - are beginning to tell.
It's evident Toby Sibley is suffering - hardly surprising since he's on a starvation diet of 780 Calories per day. Here's his dinner last night, as his supplies began to run out: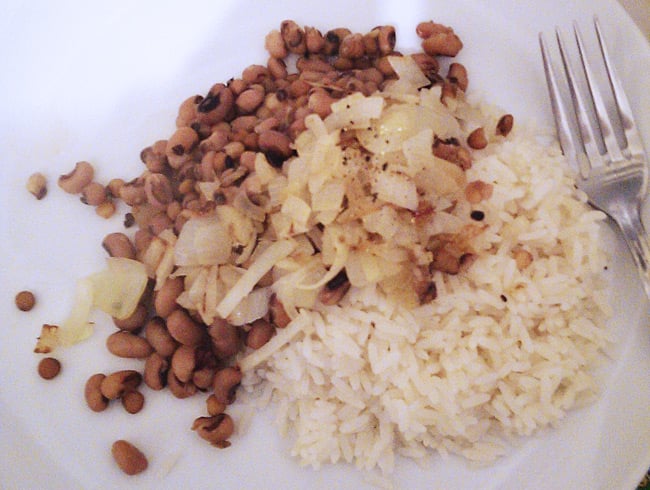 Starvation rations
He told us yesterday: "Feel a bit weak and lacking focus. Monotony of the food is also starting to become grating. I'm just hoping the next 35 hours will fly by."
I suggested the monotony is the worst aspect, but then I've got the luxury of a mountain of rice to keep my belly full at least.
Toby responded: "I'm not sure that I agree. According to Maslow's 'hierarchy of needs' avoiding hunger is pretty much the base of the pyramid in terms of satisfying human wants. Self-actualisation and fulfilment is at the top of the pyramid.
"After four days of self-imposed starvation I now concur with Maslow and can state that being hungry is worse than being bored and that is the need that I would satisfy first. My major insight from this challenge is that I should value my well stocked larder and local takeaway joints more than I do."
He concluded: "I'm rambling as a result of hunger and boredom."
Neil Barnes, meanwhile, had presumably completely run out of energy at lunchtime when he simply wrote: "Dunno about you, but I'm starting to feel it..."
Happily, he'd recovered by dinnertime, and sent over a couple of snaps of last night's feast: egg curry including potatoes, onions, frozen peas, carrots, and eggs...
Recovery nosh: A nice egg curry
Looking good, and Neil's cunning challenge planning means that while he and missus Anita have been taking in a modest 1,400 Calories a day, there will be stuff left over tomorrow, meaning a total spend of just £8.92 for both of them.
I'm in pretty good shape too, despite deciding yesterday a bit of light digging in the garden was a really bright idea. That prompted an hour slumped on the sofa and an early appointment with my bed.
Nonetheless, I've still got 800g of dried long grain rice available, and there's no way I'm going to eat all of that today. My chick pea stew is holding out, and there was half a sizeable foraged mosaic puffball in the fridge this morning to fry up with two of my three remaining eggs for breakfast.
Egg-fried rice with stew is on the menu for today, and before retiring I'll quaff what's left of the 1L of milk which has for five days done essential work in the tea department.
Chris Winpenny also appears to be surviving. Yesterday, he knocked up huevos a la cubana, which is basically eggs, rice and a bit of sauce. "Maybe Cubans like fried eggs (I went for poached) and rice. Damn strange name for a dish," he said.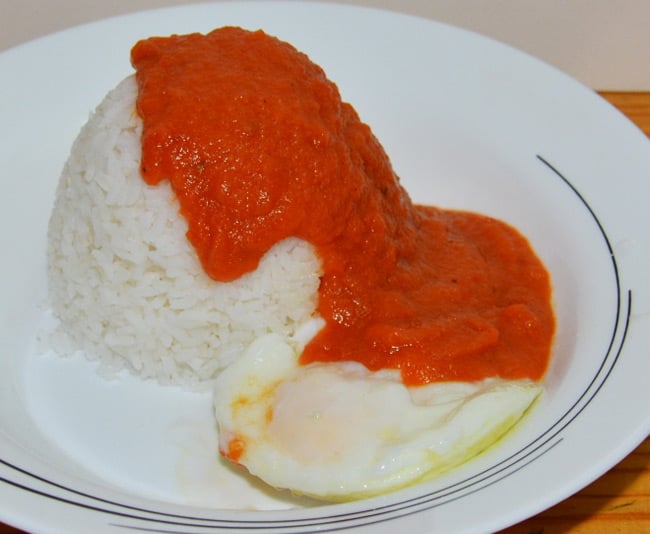 Huevos a la cubana - fuelling the socialist revolution
Chris explained: "At the start of the week, I reduced all the tomatoes with a fried onion then blended them. This way they saved better and were used to add a bit of flavour to the poached-egg-on-toast suppers and for these last two lunches."
Plausible enough, but Chris hadn't reckoned with the intervention of his wife, who'd promised to "help out" with the rice since he, like me, had more than enough to meet his needs.
The poor shaken chap recounted: "She added a couple of eggs, her own tomato sauce, and then covered the whole lot with jamón serrano. She also tried a bit of my sauce but it's hidden under the ham. Not exactly 100 per cent behind the team here. Then, to rub salt into the wound, she got a second lot of rice, sauce and ham, later proclaimed herself pogged and went off for a siesta."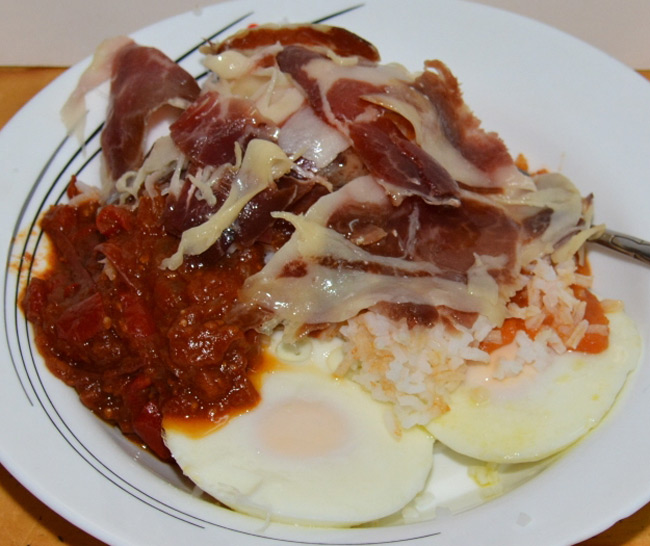 Chris's missus is not exactly 100 per cent behind the team here
Chris noted: "This might give the impression that she's a big lady. She isn't, I just don't know where she puts it all."
If that temptation outrage isn't enough to prompt you to support our chosen charity - Malaria No More UK - then flash the plastic for Toby, who's getting married tomorrow and is to be applauded for committing to the challenge in the immediate run-up to his nuptials.
Generous readers have already stumped over a grand for the the charity, which is "working to protect and save lives from malaria in Africa". There's more on just what an obnoxious disease malaria is here, and we invite you to donate right here. ®
Sponsored: Detecting cyber attacks as a small to medium business