VMware's AirWatch plan: chew up 'hairball' Windows, spit out pieces
Virtzilla wants to give Syadmins one console to rule mobile, physical and virtual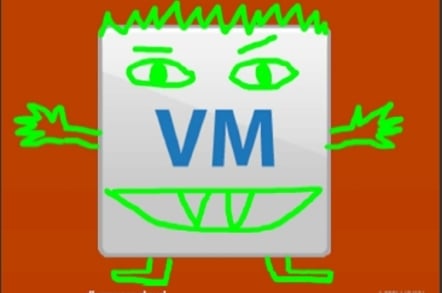 The chief technology officer of recently-acquired-by-VMware mobile management outfit AirWatch has outlined Virtzilla's plans for one management console to rule them all across mobile devices, desktops of all flavours, applications and even data.
Kit Colbert, VMware's chief technology officer for end-user computing, yesterday outlined the plans in a video.
VMware, he explains, want applications and data to follow them around no matter what devices they choose to wield at any given moment. Sysdamins want one console to manage data, applications and security no manner what device an end-user decides to use.
Virtzilla thinks that it can deliver just such tools by melding its existing Horizon Mirage physical desktop management products, Horizon View virtual desktop wranglers and AirWatch. Users will gain "a unified portal and application catalog with single sign-on across desktop and mobile, and one place to go for all your files." Colbert also suggested that a social integration function is under consideration, because VMware thinks social media should not be "a place you go" but a source of information made available anywhere it is useful.
"If you think about files and data you can embed social data in there to understand who has been using them, or get a better idea of who to collaborate with with."
"You might see a social stream in email," he added. "We see an opportunity to embed social across all aspects of an ed-user's world instead of having it be a place they go."
Colbert sounded confident those ideas can be achieved.
Delivering better management tools sounds harder, because Colbert said Windows makes "desktop management … extraordinarily complex".
"Windows itself is a complex operating system. It doesn't have some of the containerisation and isolation properties of iOS.
"I like to describe Windows as a bit of a hairball," he added. "When you install an application it just tattoos the system and installs registry keys and installs DLLs … and what it leads to is this image management solution situation for administrators where you have to go and install everything together to make sure that it works."
"This is not scalable and is not the future of management," he said. Colbert plans to instead "break up Windows into separate layers, essentially separate out the base Windows image from each application so that those applications can then be dynamically composed."
Colbert thinks more granular control will need to be created for user data, to enable it to be shared across different platforms.
Details of just products this will all translate into, and when they might emerge, aren't discussed in the video. But Colbert did say VMware and AirWatch people are now working together on these efforts.
Colbert's preview of future directions will be welcome, but are also a bit scary for VMware because they point out that even its recently-released Horizon 6 falls a long way short of its vision for what end-user computing needs to deliver.
One other nugget: The Reg has learned that VMware's dual-persona smartphone effort, which allowed the Horizon Mobile to run on handsets from LG, Motorola and Sony, has been shifted to the AirWatch team. ®