The Internet of Things gets its own NAS
Synology emits a rugged, palm-sized unit that slurps power over Ethernet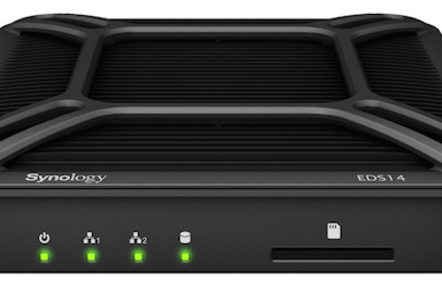 Some of the many, many, nodes promised to connect to the internet of things are going to do two things: make a lot of data but not always be able to send it anywhere.
How to store that data in the often-inhospitable locations sensors and small computers will find themselves seems to have exercised some minds at Taiwanese vendor Synology, which has just created a small, rugged network attached storage device in the form of the new Embedded DataStation EDS14.
The NAS is an odd one as it can hold no spinning rust or solid state disks. It does, however, boast a single SD card slot, two gigabit ethernet ports, a USB 3.0 port and a USB 2.0 port. The USB 3.0 port is intended to connect to a disk. The USB 2.0 slot is said to be 3G compatible, meaning this NAS can probably fire up a connection to the outside world as and when needed.
The unit can slurp power from the mains or power over Ethernet, the latter offering interesting deployment options.
Synology's designed the EDS14 to control surveillance cameras, an application for which it is clearly well-suited. That it has the ability to control the flow of power to attached peripherals means it is also suited to all manner of applications. Throw in an ability to operate in temperatures from -20˚C to 50˚C (-4˚F to 122˚F) and this is a NAS that can go places others cannot, although the lack of an ingress protection rating means it is clearly not going to survive every environment.
It will, however, sneak in to plenty of places other NAS devices cannot as it measures just 125 x 125 x 31mm.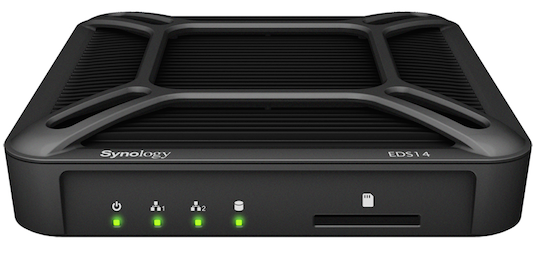 Synology's EDS14 goes where other NAS devices fear to tread
This is clearly no mainstream filer, so it would be foolish to expect it shows up in an office. But The Reg is aware, for example, of a requirement that Sydney's commuter trains store video surveillance footage in each carriage. The EDS14 looks to be handily capable of that and of slotting into all sorts of places where sensors and small computers will go if Internet of Things enthusiasm is accurate. ®
Sponsored: Detecting cyber attacks as a small to medium business