Titsup UK Border IT causes CHAOS at air and seaports in Blighty
Welcome to Great Britain ... this might take a while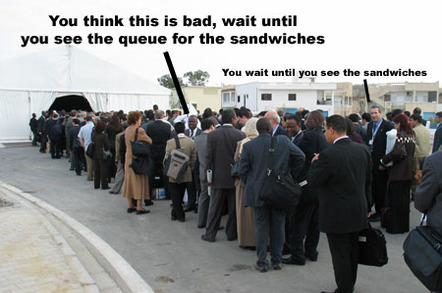 Queues of angry travellers were stuck at the UK border last night after a computer glitch forced immigration officers at airports and seaports to resort to manually entering passport details.
The UK Border Force admitted its systems crumbled yesterday evening, causing congestion at Heathrow, Gatwick, Stansted and Birmingham airports, as well as the ports of Dover and Southhampton.
Huge queues of up the 2,000 people were forced to stand for hours while staff frantically bashed in passport details by hand.
People from outside the EU were worst affected by the glitch, which affected both manned custom posts and the automated e-passport readers.
As if queuing in an airport wasn't bad enough, one passengers said the situation was compounded by passport officers who had all the charm of David Walliam's famed "computer says no" character.
It is understood that the systems are back up and running, with Heathrow and Gatwick insisting that "business as usual" has resumed.
James Brokenshire, immigration minister, said: "Our engineers have been working through the night to fix the temporary IT problems that regrettably led to longer queues for some passengers at passport controls yesterday.
"The current situation is much improved and we are doing our best to keep waiting times to a minimum during this morning's busy period.
"We apologise for any delays but security must remain our priority at all times."
Ian Golding, director of the business consultancy Custerian, took to his blog to grumble at length about the delays. After claiming that Dubai was somehow a better place than Britain because there were no queues at immigration, he slammed Gatwick staff for failing to keep travellers informed of the IT problems.
It was a huge shambolic mess – passengers were pushing in, unclear as to where the queue was actually supposed to start," he wrote. "Credit should be given to the thousands of customers who quietly and diligently stood in line. There was almost a sad acceptance that this happens in the UK – and that is sad!
"The experience was not made any better by finally arriving at a desk. As my passport was taken out of my hand, I was not greeted by an apology, or even an acknowledgement of the wait. Instead, I was told that 'this is not my fault, it's the system' – I kid you not. David Walliams's Little Britain character is alive and well and working for the Home Office in the UK."
He said that Easyjet finally sent the following message to customers who were affected:
"We would like to apologise for any delay you may have experienced or are experiencing through the immigration process upon your arrival. Although this delay is out of our control we understand it is not a nice way to end your journey and we would like to thank you for your patience and understanding while UKBA rectify any faults they are experiencing."
And if Easyjet considers the situation uncomfortable, then we know passengers are really in trouble.
Here's what Twitter twits tweeted about the problem:
Just landed at #Heathrow #Terminal1 there is a 2 hour wait / 1000metre queue to get through passport… http://t.co/AQaY2zvAQh

— Murtz (Murtaza Ali) (@MurtzMurtz) April 30, 2014
Has Nigel Farage taken a job at the UK Border Agency? Non-UK queue at Heathrow hasn't moved an inch in 30 minutes.

— Ella Mason (@EllaMason) April 30, 2014
Monster queue at #heathrow terminal 1, border agency systems down at passport control http://t.co/BzGFR1YEnw

— Tom Brett (@TheTomAngle) April 30, 2014
In horrendous queue @Gatwick passport control. Queuing for 30mins moved 10m. Why do we Brits put up with this? Makes Brits look incompetent

— Jonathan Carrier (@jonthanjcarrier) April 30, 2014
Do you know anything about the UK Border Force and its IT systems? Do you know what's gone wrong? Get in touch in confidence and let us know. ®
Sponsored: Detecting cyber attacks as a small to medium business