Australia told to follow UK's 'Digital by default' strategy
Cloud first, big data and dedicated e-services minister recommended by razor gang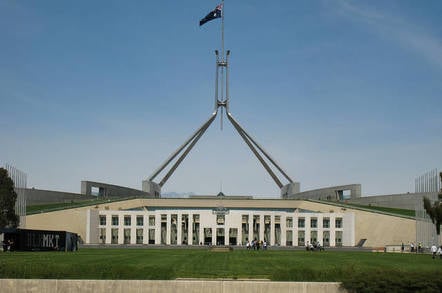 Australia has been told it should adopt the UK's "Digital by default" strategy and a "cloud first" strategy for government IT.
The antipodean nation has tiny government debt by the standards of advanced economies in North America and Europe, but local political sensibilities deem budget deficits disastrous and unendurable. Australia's recently-elected government therefore created a Commission of Audit to figure out where future spending spending ought to be directed. That Commission's colossal report was released today, here, and included a number of recommendations about government's use of technology.
The report suggests that Australia "should do better" than current policy that calls for "a commitment to ensure every government interaction that occurs more than 50,000 times per year can be undertaken online by 2017." The Commissioners offer the following suggestions instead:
"The Government should adopt a transformative strategy to become digital by default for all transactions. The strategy should specify an explicit savings target to drive change. It should act decisively to remove legislative barriers to digital transactions.

It should set concrete milestones, including switching from an 'opt-in' arrangement for myGov to a default 'opt-out'.

The strategy should require agencies to make services available through mobile applications. It should have clear and ambitious timelines. It should aim to simplify departmental processes – there is limited value in collecting electronic information from citizens to feed into manual processes in departments."
There's also a call for "consolidating the e-Government effort through a single team under the leadership of a Chief Digital Officer" and "appointing a senior minister to champion the digital by default agenda." Australia's communications minister, Malcolm Turnbull, currently has carriage of the effort to create government online services and may not be entirely chuffed by the suggestion someone needs to be dedicated to the task full-time!
On cloud, the report has two succinct recommendations, namely:
a. introducing a mandatory 'cloud first' policy for all low risk, generic information and communication technology services; and
b. establishing a whole-of-government cloud computing provider panel.
A recommendation sure to raise eyebrows is the observation that "There is untapped potential to use anonymised data and new data analytic techniques to improve the efficiency and effectiveness of government" and that Australia should therefore "rapidly improve the use of data in policy development, service delivery and fraud reduction." Four actions are suggested:
a. requiring major departments and agencies to develop plans to maximise use of their own-source data;
b. extending and accelerating the publication of anonymised administrative data;
c. prioritising several 'big data' projects in major service delivery agencies; and
d. establishing a data strategy to be prepared by the Australian Statistician on the quality, timeliness and availability of data that would be suitable for public release.
Recommendation 60, "Outsourcing of the Department of Human Services payments system", will be music to the ears of Australia's technology industry because the payments system it describes makes many millions of transactions every year. Even though the report suggests Australia should make rather few welfare payments, this would be a tasty and lucrative gig to win and demand will never end.
The industry will also enjoy the observation that "There is significant scope to expand road user charging" while a suggestion that "Improving information on government programmes and public sector performance" looks to have the potential to create lots of work for content management and web publishing folk.
Suppliers to government may be less happy with a recommendation to further improve government technology procurement processes, as such improvements rarely result in higher prices being paid!
A call for shared back office services, especially in the accounting sphere, across government also looks a chance for some truly enormous deals to supply the large-scale systems that will be needed.
That the National Archives of Australia and the Australian Information Commissioner are both suggested as rationalisation targets also looks to have an impact on technology acquisition and deployment respectively.
Industry may also not enjoy the suggestion that States become responsible for the funding of all primary and secondary education, and education policy, as that reduces the chances of a single national technology curriculum being retained. Industry has lobbied hard for such a curriculum. Nor will a recommendation that student fees increase be welcome, as Australia already struggles to produce graduates with STEM skills. A recommended abolition of all Commonwealth vocational education programs is also likely to disappoint.
The Reg will delve deeper into the 500-plus page documents to offer analysis in the near future. ®