Cash slump a Seagate problem, or a hard disk industry problem?
We need a peek at other vendors' numbers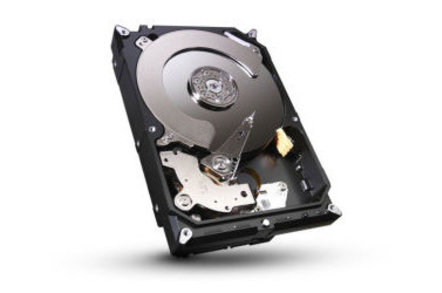 Analysis Seagate revenues and profits have slumped in its third fiscal 2014 quarter, reflecting ongoing difficulties in the disk drive market and product transitions.
Revenues of $3.4bn were reported in the quarter ending 28 March, and these were 4 per cent down year-on-year. Net profits were $395m, 5 per cent lower than a year ago. Revenues and profits in the third quarter were also lower than the $3.53bn revenue and $428m profit seen in the second quarter.
Steve Luczo, Seagate's chairman and CEO, said: "Seagate's March quarter results reflect ongoing effective execution in a dynamic market environment. We are positioning the company to lead in the evolving storage ecosystem by leveraging and investing in our market-leading product portfolio to enable shifts in the storage landscape in hyperscale, performance and mobility."
This market-leading product portfolio produced a revenue and profits decline, Steve, let's not forget that.
Seagate's shipped disk drive capacity rose eight per cent y-o-y to 50.8 exabytes; it was 52.2EB in the prior quarter. The average capacity this quarter was 920GB; it was 922GB in the previous quarter and has been rising quite strongly for several quarters.
The company shipped 55.2 million drives in the quarter. It shipped more, 56.6 million, in the second quarter.
There were 7.7 million enterprise drives, 100,000 down on the previous quarter and just 200,000 higher than the year ago quarter. This reflects, El Reg storage desk thinks, SSD replacement of HDDs in storage arrays.
Desktop drive shipments totalled 19.8 million, which was better than the 19.2 million in the prior quarter but not much of an increase over the 19.6 million recorded a year ago.
Notebook sales fell to 16.4 million units from the 16.9 million reported last quarter and the 17 million a year ago. Seagate's strategy of offering hybrid drives with a flash cache does not seem to be working.
Consumer Electronic drive units were 5.4 million, down substantially from the previous quarter's 6.7 million and the year ago 5.8 million.
Branded shipments (retail we understand) were 5.9 million in the third quarter, down from the 6.2 million in the prior quarter and up a little from the 5.7 million units ship a year ago.
All-in-all a picture redolent of a mis-firing engine, with the quarter being reliant on desktop drive sales for growth - thank you Microsoft for your new version of Windows and ending XP support.
It will be very interesting to see if Western Digital's results show the same pattern when they come out tomorrow. That should indicate whether it's an industry problem or a Seagate problem. ®
Sponsored: Minds Mastering Machines - Call for papers now open