PARTY TIME! MIT slips $100 to each student ... in Bitcoin
We'll wager 0.0189BTC it gets instantly converted into real money and spent at the bar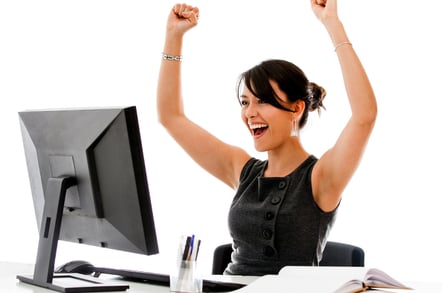 Students at the Massachusetts Institute of Technology will each be handed $100 of Bitcoin in a bid to create a crypto-currency economy within the university.
The scheme was dreamed up by Jeremy Rubin, 19, a second-year undergraduate, and Daniel Elitzer, an MBA student at the university's Sloan School of Management.
To finance the project, the pair raised more than $500,000, with the majority pledged by Alexander Morcos, who studied at MIT and went on to a career in high-frequency trading.
The two crypto-entrepeneurs are big fans of digital funny money. Rubin is working on the development of Tidbit, a project to replace online advertising with Bitcoin mining, while Elitzer is the founding president of MIT's Bitcoin Club.
They hope to encourage students to get involved in the nascent currency, by building the foundations for a Bitcoin "ecosystem".
"Giving students access to crypto-currencies is analogous to providing them with internet access at the dawn of the internet era," said Rubin.
"This will spark new development," he added to the Guardian. "Even if students simply use their Bitcoin to buy stuff, someone has to build an architecture to enable buying stuff. And what if buying with Bitcoin is really convenient? Maybe there will be an active conversion into Bitcoin."
Of course, nothing ever comes truly for free. The pair of Bitcoin bods want the young recipients of their generosity to actually do something interesting with the cash – $100 is worth 0.22BTC right now – rather than changing it into dollars and buying Friday night booze.
"We decided to announce this project now to give students lead time," added Elitzer. "We want to issue a challenge to some of the brightest technical minds of a generation: 'When you step on to campus this fall, all of your classmates are going to have access to Bitcoin. What are you going to build to give them interesting ways to use it?'"
The staff at MIT are delighted that their students will get an easy introduction to Bitcoin.
Dennis M. Freeman, MIT's undergraduate education dean, told the uni paper: "By bringing students and faculty together to inform members of the MIT community about what Bitcoin is and to research its use, Rubin and Elitzer are helping everyone to better understand this emerging technology." ®
Sponsored: How to get more from MicroStrategy by optimising your data stack